Events at the Corinium Museum
Throughout September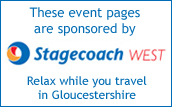 Exhibition
Friday 7 September – Sunday 28 October: A World in Fragments, the Mosaic Art of Robert Field
A World in Fragments will display the full range of the diverse and wide-ranging themes Robert Field has undertaken as a mosaicist. His work is heavily based on the natural world and the patterns and shapes he has abstracted from it, often using his own photography as a starting point. The work will include several series patterns, close-ups of flowers and seed heads and the problematic use of limiting the material to just one colour. An area of the exhibition will be devoted to re-creations and copies of Roman Mosaics from villas around Britain. The largest of these is a copy of a wonderful Orpheus mosaic. In addition to being a founder member of the British Association for Modern Mosaic (BAMM) he also served for a number of years on the committee of the Association for the Study and Preservation of Roman Mosaics (ASPROM) and is a member of L'Association Internationale pour l'etude de la Mosaïque Antique (AIEMA) whose conferences he has attended at a variety of venues around the world. A successful author, Robert Field has written six books on geometric patterns which have sold almost 90,000 copies world-wide.
Tickets: Entry to the temporary exhibition space is free.

Thursday 27 September: Air Photo Intelligence in the First World War
An evening lecture by Nicholas C. Watkis AE MA DipM CMC FCIM MIC
This presentation will show how the use of air photography and photographic interpretation developed as primary source of tactical intelligence during the First World War.
Nicholas Watkis is an experienced imagery analyst, with particular interest in the development of Air Photo Intelligence and its view of the First World War battlefields. He is a specialist in this field and is the author of a book on this subject "The Western Front from the Air" (Sutton Publishing).
Tickets: £5.65 or £5 to annual season ticket holders. All lectures are from 7 - 8.30pm (this includes time for questions). Finish times may vary.

Rural Cinema
Saturday 29 and Sunday 30 September:The Best Exotic Marigold Hotel
Cast & Crew: Bill Nighy, Maggie Smith, Tom Wilkinson, Judi Dench, Dev Patel, Liza Tarbuck . Director: John Madden
The Best Exotic Marigold Hotel follows a group of British retirees who decide to "outsource" their retirement to less expensive and seemingly exotic India. Enticed by advertisements for the newly restored Marigold Hotel and bolstered with visions of a life of leisure, they arrive to find the palace a shell of its former self. Though the new environment is less luxurious than imagined, they are forever transformed by their shared experiences, discovering that life and love can begin again when you let go of
Time: 2.15pm
Tickets: £4.65, £3.85 (concessions and season ticket holders). Booking recommended.
---
Event: Events at the Corinium Museum
Date: Throughout September 2012
Time: as above
Tickets: as above
Where: Corinium Museum, Park Street, Cirencester, Glos. GL7 2BX