Events at Corinium Museum, Cirencester
Throughout June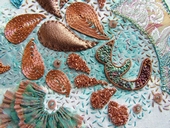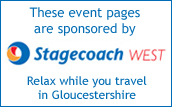 11 May – 15 June: Making a Point, East Anglian Textiles exhibition
This exhibition explores a variety of themes from purses and pockets to the brashness of graffiti art. There will be a profusion of vintage fabrics recycled from household furnishings, and colourful knitted sculptural creations. Drawing from language and number systems, nature, history and landscape, the group will present a myriad of forms, shapes, textures, print and stitch techniques. They will stretch the use of textiles and challenge traditional perceptions of them.

The members of EAST are committed to the continued development of textile work, its recognition and its full participation in the established art scene. This exhibition is featured as part of Stroud International Textiles (SIT) Spring Select programme.
Cost: Entry to the museum's temporary exhibition space is free.

Thursday 6 June: New Anglo Saxon Brooch
Join Georgina to see a new Anglo Saxon acquisition. This brooch was uncovered by a metal detector and kindly donated to the museum. It has since been identified as a rare type of brooch that displays unusual decoration methods.
Time: 12.30pm
Cost: Museum lunchtime gallery talks are included in admission. Free to season ticket holders.

Thursday 13 June: Corinium Cinema - Life of Pi
Director Ang Lee creates a groundbreaking movie event about a young man who survives a disaster at sea and is hurtled into an epic journey of adventure and discovery. Whilst cast away, he forms an amazing and unexpected connection with another survivor...a fearsome Bengal tiger.
Time: 7pm
Cost: £5.50 adults and £4.50 concessions. Advanced booking recommended.

22 June – 20 July 2013: Cotswold Open Studios Hidden Treasures 2013
A collaborative showcase exhibition of the artists and makers taking part in Cotswold Open Studios weekend, 29th − 30th June 2013. These 'hidden treasures' are professional artists, makers, sculptors and designers in and around Cirencester.

The artists are called 'hidden treasures' because many of them have international reputations, yet locals would rarely get the chance to engage with what they do. This showcase exhibition is a wonderful opportunity to enjoy one piece of work by each of the participants of the Open Studios weekend.

This exhibition is a celebration of achievement of all that is created around Cirencester in the Cotswolds. Many of these artists let the land near their studio speak to them, whilst others take their inspiration from text, film, music or the animal kingdom. All of them are keeping the Arts and Crafts tradition alive in this wonderful part of England.
Cost: Entry to the temporary exhibition space is free


Saturday 22 June: Cotswold Open Studios
Join Creative Director Tessa Webb and meet a group of artists exhibiting in the Open Studios exhibition, and celebrate the launch of Cotswold Open Studios 2013. Artists across the Cotswold District will be opening their doors for visitors on 29th and 30th June and will be featured in a special showcase exhibition at the museum from 22nd June to 20th July.
Time: 10am – 1pm
Cost: Free event in the museum's temporary exhibition gallery– just pop in.

Thursday 27 June: In Search of Winchcombe Abbey
An evening lecture with David Aldred
The fate of Winchcombe Abbey after the Dissolution of the Monasteries paralleled that of Cirencester. This talk will show how the Influence of the abbey can still be found in the landscape, and how fragments of carved stone can help us to understand its grandeur.
Time: 7 – 8.30pm
Cost: £5.65 adult or £5.00 for season ticket holders. Advanced booking is recommended.

Saturday 29 & Sunday 30 June: Rural Cinema – Lincoln
Steven Spielberg directs Daniel Day-Lewis in Lincoln, a revealing drama that focuses on the 16th President's tumultuous final months in office. In a nation divided by war and the strong winds of change, Lincoln pursues a course of action designed to end the war, unite the country and abolish slavery. With the moral courage and fierce determination to succeed, his choices during this critical moment will change the fate of generations to come.
Time: 2.15pm
Cost: £4.65 adult and £3.85 concessions. Advanced booking is recommended.
---
Event: Events at Corinium Museum, Cirencester
Date: Throughout June 2013

Where: Corinium Museum, Park Street, Cirencester, Gloucestershire, GL7 2BX