English Touring Opera at The Everyman, Cheltenham
30 April - 4 May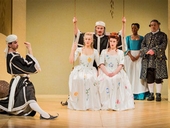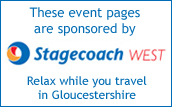 Tuesday 30 April & Saturday 4 May: Così fan tutte
In many ways Mozart's most perfect opera score, and Da Ponte's most challenging script. It is a comedy of innocence and experience, funny and unnerving, touching and satirical. The delicate balance between recognizing the posturing of the four young lovers and loving them all the same is a challenge to each director and singer.
Sung in English

Wednesday 1 & Friday 3 May: Simon Boccanegra
ETO's first new Verdi production for several years.

The story comes from the history of Genoa, for centuries a great maritime republic, and from it Verdi creates an impassioned plea for Italian unity.

This is a massive undertaking for English Touring Opera, with an unusually large chorus and orchestra – a personal ambition of ETO General Director James Conway and Music Director Michael Rosewell, supported with a special grant from the Peter Moores Foundation.
Sung in Italian with English surtitles

Thursday 2 May: The Siege of Calais (L'assedio di Calais)
What does it mean to be a citizen? What is it that a citizen owes to his city, or country? This is the question posed by Donizetti's rarely performed epic The Siege of Calais (L'assedio di Calais) – a 'serious' opera, sung in Italian, constructed of bel canto arias and ensembles of extraordinary quality.

It is the story of the burghers of Calais (depicted by Rodin in his famous sculpture outside the Houses of Parliament), citizens who offer up their lives to save their city from a besieging army. Their sacrifice is quiet, ordinary, sublime – and it culminates in one of the most moving ensembles in all of opera, the momentous O sacra polve, o suol natio (O Sacred Earth).
---
Event: English Touring Opera at The Everyman, Cheltenham
Date: Tuesday 30 April – Saturday 4 May 2013
Time: Tue – Sat 7.30pm
Tickets: Tickets: £14 - £26 plus booking fee available from the Everyman Box Office on 01242 572573 or online
Where: Everyman Theatre, Regent Street, Cheltenham, GL50 1HQ