'Forest Reflections' at the Dean Heritage Centre
from 6 August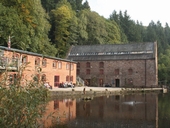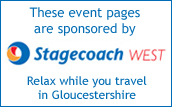 An exciting new exhibition by local artist Doug Eaton opens on Monday 6th August at the Dean Heritage Centre (DHC), and runs until Sunday 16th September.

Doug grew up in the Forest of Dean and combines his interest in the varied effects created with paint with the strong result from lines, shapes and colours in order to create a fascinating take on the landscapes of the local area.

Part of the beauty of Doug's work is the juxtaposition of extremes, such as soft edges against hard or dark against light. These techniques create a canvas that sheds new light on familiar places in the Forest of Dean which Doug describes as 'the biggest back-garden in the world'.

Doug defines his paintings as suggestions and hints allowing the beholder to interpret the lines and colours for themselves. His artwork engages with the onlooker, providing a different experience for everyone."

Meet the artist and view his work at a preview evening at the DHC on Sunday 5th August from 5pm until 8pm.

Entry to the 'Forest Reflections' exhibition is included in the DHC's admission fees.
---
Event: 'Forest Reflections' at the Dean Heritage Centre
Date: Monday 6 August - Sunday 16 September 2012
Time: opening hours 10am - 5pm
Tickets: adults £5.40, child (5-16) £2.75 concessions £4.65, Family £15.40(2 adults and up to 4 children)
Where: Dean Heritage Centre, Camp Mill, Soudley, Glos. GL14 2UB