Kemble Air Day 2007
Sunday 17 June 2007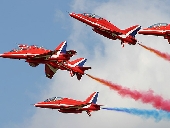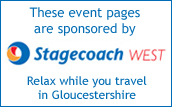 The 11th Kemble Air Day will take's place on Fathers' Day, Sunday 17th June, with a new and exciting partnership between Kemble and the recently formed RAF Events Team and on the day in the air the Kemble audience will see an exclusive sequence specifically designed to give spectators a dramatic insight into modern RAF capabilities! Just one part of the days over head and on the ground activities.

Kemble is so much more than just an Air Show and the perfect treat for the whole family on Fathers Day or the favourite men in your life.

This Cotswold Classic Air Show is a great day out for all ages. You will get close to the aircraft; see the display of Classic Cars; enjoy the wide range of food and drink on offer, including great beer and champagne; visit the shopping village for all the official merchandising, clothes and cuddly toys; take advantage of the children's play area; enjoy the fun fair and scary rides on offer or book lavish corporate hospitality. Even if air displays are not your thing there will be plenty of excitement to keep everyone occupied all day.

Kemble Airport was home for 20yrs to the world-famous aerobatic team The Red Arrows**, and they return on June 17th. Accompanying the flying displays will be many ground and static exhibits to make Kemble Air Day a must do.


The theme for this year's Kemble Air Day will be the "Century of Frank Whittle" and "70 years of British Jet Aviation" which will celebrate Frank Whittle's genius of inventing and developing the jet engine. These are both very fitting themes as Gloucestershire is often referred to as the birthplace of the jet engine. Kemble Air Day will tell the story of the British jet engine from the Gloster Meteor right through to the state of the art modern jet fighters.

Kemble's organiser, Glen Moreman, says "Kemble Air Day has developed over the last decade into a major Air Show which still manages to retain its personal feel. The public are able to get close and really feel part of the action. We are thrilled that the RAF Events Team has chosen Kemble Air Day to be one of only a hand full of Air Shows across the U.K that they will appear at with a unique and tailor made modern jet scenario."
---
TICKETS:
Tickets are on sale now through:
See 0870 163 1789 and
Ticketmaster 0871 230 9899
or in person at all local Tourist Information Centres
or online - see below
To book VIP/Corporate Hospitalty, get all the information and regular updates register your details on the Air Day web site www.kembleairday.com.

PRICES:
£17.50 advance (£23 on the door),
£5 for children 6-16
and under 5's go free.
** Always subject to change
---
Need some where to stay?
Explore Gloucestershire suggests the following hotels...
Cirencester
The Corinium Hotel
The Crown Inn
Fleece Hotel
Le Spa at Stratton Place
The White Lion
Bibury
Bibury Court Hotel
The Swan Hotel

Tetbury
The Close Hotel
Hare & Hounds Hotel
The Ormond At Tetbury
The Priory Inn
The Royal Oak Inn, Tetbury
The Snooty Fox