Chocolate heaven at The Chase Hotel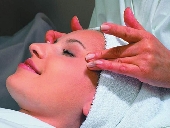 After weeks of hard work, Explore Gloucestershire decided that Karen was in need of a bit of a treat so she was sent for a Chocobeauty facial at Reflections at the The Chase Hotel. She came back glowing and very chilled out! We decided to put her back to work and share her experience...

"Following my arrival at 1pm I changed into my swimsuit and the big chunky towelling robe provided. I was shown into the rest area where I went through the formalities of a questionnaire and lunch menu while drinking a refreshing herbal tea. At this point I knew my day was going to be special as even the tea came accompanied by a large pink flower. There was quite a menu choice and my Spa experience included two items from the three course menu… but there was plenty of time to decide as nothing about my day was rushed.

At 1.30 my husband joined me for lunch by which time I had already had a quick tour of the eating areas. I was too hot outside, underdressed for the restaurant but right at home in the bar area, nice and quiet with relaxing background music. I was also provided with a newspaper. Lunch (click for Spa Lunch Menu) was extremely tasty and I was very happy with my selection of rocket salad with pine nuts and balsamic vinegar followed by Cappelleti spinach and ricotta with herb and tomato sauce. I am reliably informed that the lobster bisque and chicken fajita wrap were also delicious. Although the desserts were willing me to be naughty, I was pleased not to have given in to temptation and that I had a salad starter instead.

After lunch it was time for a bit of spa indulgence. It was a great place to catch up events of the day and generally unwind, and we tried them all – steam room, sauna pool and jacuzzi. I even braved the ice fountain for a cooling rub down. So, after a nice hot shower I was off for my facial and said goodbye to my other half.

I spent the next hour in the serene atmosphere created in one of the treatment rooms. Lit with candles and calming eastern music it's the sort of scene you just can't quite create at home when all the family are there. I was left to make myself comfortable on the treatment couch and covered myself with a large towel before Mel arrived to start the treatment. I just lay there with my eyes closed. My face was cleansed, exfoliated and massaged. It was an experience filled with different textures and aromas. There was no doubt at the point when the chocolate was applied. It smelt delicious but I resisted the temptation to lick my lips!! I was in chocolate heaven. This was left on for a short while and when removed my face was again cleansed. More Reika massage of my head neck and shoulders followed. At the end of my treatment I was left alone with a glass of cold water to compose myself and return to reality. However I was in no hurry and had at this point decided that the rest of my day should continue in the same vein – relaxed and composed. That evening waves of chocolate aromas kept coming back to me – followed by a contented little smile."
---
Did you know?
Apparently chocolate has many proven therapeutic properties which I have investigated and listed below:-
Rich biochemical composition
High mineral content that includes magnesium (promoting healthy cellular functions), iron, potassium and calcium (great for skin cell renewal)
An abundance of vitamins A,E,B1, B6 and Folic Acid all needed for cell regeneration
Nourishing and moisturising
Diurectic effect from the theobromine caffeine content
Powerful antioxidant properties four times more powerful than Green Tea!
The fragrance of chocolate releases endorphins in the brain to make you feel good

The whole experience was definitely a treat. It was just for me and made me feel special. It's also an ideal present as Spa Gift Vouchers are available from Reflections.

To book your day see below:-
---
27 July 2007
Karen Davis
Explore Gloucestershire

For further information.

Contact phone : 01452 519988
OTHER NEWS
• Linking up with STAR 107.5FM
• Eating out with a difference at AV8 Restaurant
• Gloucester Tall Ships 2007
• The Glory of the Flower by LAPADA
• Heritage Open Days 6 - 9 September
• Photography Competition - WIN a Digital Photo Frame!
• New Aviaries at Birdland Park & Gardens
• £5 off your family ticket at Dean Forest Railway
• WIN TICKETS TO HOWLERS COMEDY CLUB
• HOWLERS COMEDY CLUB - New Autumn season dates
• SPECIAL OFFER - Promote your event for only £10 pcm
• Watch our movie of the Gloucestershire Floods of 2007
• Chocolate heaven at The Chase Hotel
• Events Cancellation & Updates
• Gloucester Blues Festival UPDATE
• Joust Cancelled 28 & 29 July 2007
• Flooding Situation - Emergency Services Update
• Flooding Situation - Emergency Services Update Tuesday 24 July 2007
• Gloucester Carnival Procession 2007 cancelled
• Joust cancelled for 21-22 July 2007
• Elton Farm Giant Maize Mazes
• NEW Severn Vale section added
• Royal International Air Tattoo 2007 Review
• Explore goes karting in Gloucester
• CATS - Get your paws on tickets for the closing shows
• David Beckham Acadmy at the Cotswold Show
• Joust Update & Joust Royal Feasts
• Saul Canal Festival Cancelled
• Pick Your Own Strawberries
• Kemble Air Day 2007 review - A great day out!
• Explore celebrates half million hits each month
• Last Howlers of the Season
• Host Birthplace Museum Secures Holst Letters
• Gloucester International Rhythm & Blues Festival Update