Watch our movie of the Gloucestershire Floods of 2007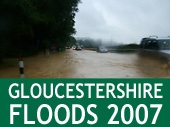 Well it's been a devastating couple of weeks for us in Gloucestershire. Although not directly affected by the flooding, Explore Gloucestershire were affected by the water situation. The impending fear at losing power across the county at one point could have been catastrophic, but thanks to the hard work of the emergency services we were spared that misery. I am sure everyone would like to join us in thanking them all again for their amazing efforts.
(Our Cheltenham webcam, which is kindly supplied to us by the Gloucestershire Fire & Rescue Service was overwhelmed with users from far and wide, trying to find out the extent of the flooding in Cheltenham. If you'd like to see (hopefully a warm, dry summers day) the view from the webcam Click Here).
Back to normal...
Most of us are now back to normal or at least managing to get flooded houses and businesses back together. We all have our own stories of the Great Gloucestershire Floods of 2007. I personally feel that it brought the local community together. We helped elderly neighbours and chatted to others at our "Billy Bowser". It made us nicer people.
But we're back and stronger and nicer than ever before and we want visitors to come and explore our county again.
If you have any stories or pictures you would like to share please email them to floods@exploregloucestershire.co.uk (keeping the file size to below 1mb if possible) and we will put the on our website.
OTHER NEWS
• Linking up with STAR 107.5FM
• Eating out with a difference at AV8 Restaurant
• Gloucester Tall Ships 2007
• The Glory of the Flower by LAPADA
• Heritage Open Days 6 - 9 September
• Photography Competition - WIN a Digital Photo Frame!
• New Aviaries at Birdland Park & Gardens
• £5 off your family ticket at Dean Forest Railway
• WIN TICKETS TO HOWLERS COMEDY CLUB
• HOWLERS COMEDY CLUB - New Autumn season dates
• SPECIAL OFFER - Promote your event for only £10 pcm
• Watch our movie of the Gloucestershire Floods of 2007
• Chocolate heaven at The Chase Hotel
• Events Cancellation & Updates
• Gloucester Blues Festival UPDATE
• Joust Cancelled 28 & 29 July 2007
• Flooding Situation - Emergency Services Update
• Flooding Situation - Emergency Services Update Tuesday 24 July 2007
• Gloucester Carnival Procession 2007 cancelled
• Joust cancelled for 21-22 July 2007
• Elton Farm Giant Maize Mazes
• NEW Severn Vale section added
• Royal International Air Tattoo 2007 Review
• Explore goes karting in Gloucester
• CATS - Get your paws on tickets for the closing shows
• David Beckham Acadmy at the Cotswold Show
• Joust Update & Joust Royal Feasts
• Saul Canal Festival Cancelled
• Pick Your Own Strawberries
• Kemble Air Day 2007 review - A great day out!
• Explore celebrates half million hits each month
• Last Howlers of the Season
• Host Birthplace Museum Secures Holst Letters
• Gloucester International Rhythm & Blues Festival Update