What's on at The Everyman in December 2007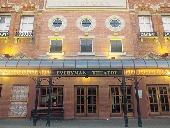 It's a fun filled month at the Everyman Theatre and the emphasis is on good old fashioned traditional family entertainment. Yes it's panto time and this year it's the story of Dick Whittington, our own local Gloucestershire lad and his journey from rags to riches with his clever cat for company. It's great entertainment for the whole family and something for the children to really look forward to during the festive period.
Continuing with local history, the Fairgame Theatre Company will be presenting the story of The Tiler of Gloucester in The Studio Theatre as part of the countywide millenium celebrations. This is an epic story of love and loss, flood and folly spanning 1000 years of Gloucestershire's history.
The Fabulous Old Spot Theatre Company will be bringing their version of an even older story in An Old Spot Nativity. Suitable for ages 3 years and upwards an Old Spot Nativity will entertain the whole family with songs and audience participation served with a hefty portion of fabulous Old Spot mischief!
The younger family members will be entranced by the heartwarming story of The Ugly Duckling, presented in The Studio Theatre by Red Dog Theatre Company. It is a great introduction to live theatre for 3- 6 year olds.
Click here for a full list of shows at the Everyman Theatre in December
Where: Everyman Theatre, Regent Street, Cheltenham, Glos. GL50 1HQ
---
30th November 2007
Explore Gloucestershire

For further information.



OTHER NEWS
• Fresh Seasonal Food at Primrose Vale
• 10% OFF balloon flights over the Cotswolds!!!
• Tourism Award for Dick Whittington Family Leisure Park
• What's on at The Everyman in December 2007
• WIN a mountain bike with Ballyhoo & Fundays Playbarns!
• Tewkesbury makes shopping fun this Christmas
• German Style Christmas Market returns to Cheltenham
• 'The Elf Factor' comes to Cheltenham!
• Your guide to Gloucestershire Christmas lights switch-on dates
• Christmas celebration in Tewkesbury 2007
• Out of the Hat to open on 8 December
• Stagecoach & Robins winning quote
• Richard Fleeshman to turn on the Christmas lights in Cheltenham 2007
• National Waterways Museum shutting for re-furbishment
• REVIEW: Gloucester Tall Ships Festival 2007
• Christmas in Gloucestershire 2007
• Elizabeth: The Golden Age - The Gloucester connection
• November COMPETITION - Great prizes to be won!
• Whats on at the Everyman Theatre in November 2007
• Bonfire Nights & Fireworks Displays in Gloucestershire
• UPDATE: Gloucester Tall Ships 2007 - 26-29 October
• Autumn half term holidays in Gloucestershire
• WANTED: Old medical equipment for Jenner Museum
• The Cafe Rene Experience - Food Review
• G2 gig delayed - Rugby to be shown live before performance
• Photography Competition - Setting the standards!
• Highlights at the 4th LAPADA Antiques Fair