Wurzelmania comes to Gloucester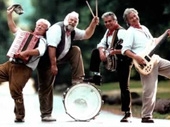 The legends of the West Country - now here's a band who really need no introduction.
Who can forget those timeless classics - "Combine Harverster" and "I am a Cider Drinker". For some of us they bring back happy memories of students bars and parties. Oh they were such easy words to sing along to - very loudly, while clutching a pint of cider......
The haystack-headed, cider soaked and dung-booted, not quite so young Avonside lads are still going strong although the line-up may have changed a little along the way. Originally founded in 1966 by the now legendary Adge Cutler who sadly died in 1974 the band are responsible for the invention of "Scrumpy and Western" and a strange new dialect "Wurzel Lingo".
Their list of songs cannot fail to make you chuckle just by reading their title - "I'd love to Swim in the Zuider Zee", "Faggots is the Stuff" and "The Champion Dung Spreader".
The Wurzels will be performing at the Guildall, Gloucester on 1 February.
---
20 January 2008
Explore Gloucestershire

For further information.



OTHER NEWS
• NEW printed guide now available
• Easter Events in Gloucestershire 2008
• Sports Relief this weekend
• Cheltenham Festival 2008 - revised Race Order
• Egg-citement builds for Cheltenham's Big Easter Weekend
• Tickets still available for The Beat + Neville Staple Thursday 28 February
• Van Morrison to play at The Centaur, Chetenham
• Eartha Kitt at Cheltenham Centaur
• Kemble Airport under attack for Kemble Air Day 2008
• February 2008 half term activities in Gloucestershire
• Cheltenham Rises to the challenge for Sport Relief
• What's on at The Everyman in February 2008
• Wurzelmania comes to Gloucester
• School Holiday Calendar 2008
• Wildlife Photographer of the Year 2008
• New Year - time for a brisk stoll in the sticks
• Preview to the 12th Cheltenham Folk Festival
• Last week to enter 2007 Photography Competition
• NEW Web Cam in Gloucester
• What's on at The Everyman in January 2008
• Howlers Winter/Spring Season 2008 (+ new venue!)
• 2008 - A year of events in Gloucestershire
• Quadrophenia Collection arrives at Littledean Jail