NEW 2008 printed guide now available!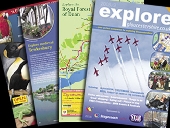 The new, long-awaited, eagerly anticipated Explore Gloucestershire 2008 printed guide is now available for you to enjoy, and it's available from hundreds of outlets in and around Gloucestershire or for you to order your copy on-line today!
What's in Explore Gloucestershire 2008
The fifty two page guide is packed full of the best visitor attractions, activities and things to see and do in Gloucestershire, as well as featuring the not-to-be-missed top events happening in Gloucestershire for 2008. You can also find places to stay, eat and drink and with five informative colour maps of Gloucestershire including Gloucester, Cheltenham Spa, Tewkesbury, the Forest of Dean and the Cotswolds, with quick reference guides to where the best places of interest in the county can be found, including venues to the elite events occuring in Gloucestershire during 2008.
You'll also find useful information about shopping in Gloucester and Cheltenham, family fun in the Forest of Dean, festivals and fayres in Tewkesbury and the Severn Vale and great days out in the Cotswolds - and it's all packed into one glossy guide - your perfect companion for exploring Gloucestershire!
Where can you pick your copy up from...
The Explore Gloucestershire printed guide can be picked up at all Visitor Centres in Gloucestershire and select Tourist Information Centres throughout England and Wales. They're also available from shopping centres in Gloucestershire including Kings Walk in Gloucester and Regent Arcade and Beechwood Shopping Centres located in Cheltenham. Further still you can pick up copies from local libraries, council offices throughout Gloucestershire, and entertainment venues such as the Everyman, Playhouse and Bacon Theatres in Cheltenham, Roses Theatre in Tewkesbury, as well as the Gloucester Guildhall and Cheltenham Town Hall.
A wealth of visitor attractions and places of interest in Gloucestershire also dispense the 2008 Explore Gloucestershire printed guide, as do many hotels, cafés, bars and restaurants in Gloucester, Cirencester, Cheltenham, Tewkesbury, with numerous country pubs, inns and guest accommodation scattered throughout the Cotswolds and Forest of Dean.
Order on-line
If you're not from around Gloucestershire and are planning a visit to this wonderful county then why not order your copy from us on-line.There's a small charge of £3.00 to cover postage, packaging and administration.
Order your copy of Explore Gloucestershire now...!
---
Become part of the distribution network...
If you're from a bona fide company who'd like to distribute the Explore Gloucestershire printed guide then simply fill in the order form and our distributors, Glide Media will send you more details of how to get involved. Sign up...
---
31 March 2008
Explore Gloucestershire
OTHER NEWS
• Hot Air Ballooning at Sudeley Castle this weekend
• Vintage Jets to salute the RAF at Kemble Air Day 2008
• Caving fun at Clearwell Caves
• SAVE £££'s - Book in advance for the 2008 Kemble Air Day!
• NEW on-line ticket booking with Stagecoach buses
• Old bangers needed for the 2008 Cotswold Show
• Amy Hatcher coming to the 2008 Cotswold Show
• Performances at the Everyman Theatre in June
• Gloucester Rugby Club tackles the 2008 Cotswold Show
• Out of the Hat - Residents offer extended
• The Red Arrows only date this summer with RIAT 2008
• Performances at the Everyman Theatre in May
• The National Waterways Museum re-opens 24 May
• SPECIAL OFFER at the Cheltenham Chase Hotel
• Tewkesbury Food and Drink Festival – opens its doors this weekend.
• May School Holidays in Gloucestershire 2008
• Asparagus now ready at Primrose Vale & Over Farm
• Enjoy a round of golf at Shipton Golf Course
• Sports Relief re-run at Pittville Park this Sunday
• Listen to the 2008 Cheltenham Jazz Festival PodCast!
• World famous Shakespeare's Globe comes to Sudeley Castle
• Gloucester shouts about its future!
• 2008 Slimbridge Beer Festival
• Your chance to create the new Tewkesbury Smoothie!!!
• Tickets now on sale to the 2008 Cheltenham Science Festival
• NEW high quality maps of Gloucestershire now available!
• NEW 2008 printed guide now available!
• NEW 2008 Photography Competition - Gloucestershire at its Best!
• Do you want to sell your wares at Kemble Air Day 2008?
• What's on at The Everyman in April 2008
• April School Holidays in Gloucestershire 2008
• Last few tickets left for Howlers at the Hall
• Fabulous prizes in to be won April's Competition!
• NEW Cheltenham Food & Drink Festival in June 2008
• Reduced entry to Out of the Hat in Tewkesbury