Performances at the Everyman Theatre in June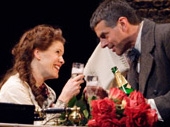 Another varied month at The Everyman gets off to a great start with the arrival of Aspects of Love, featuring some of the stars of the West End. This brand new production featuring a music score by Andrew Lloyd Webber is a love story spanning 20 years. Five people from three generations are bound together by passion, desire, family ties and friendship as they learn to appreciate that love changes everything.
The musical theme continues in the family favourite The King & I. Presented by Cheltenham Operatic and dramatic Society this is the famous musical based on a true life experience. Another favourite, Into the Woods, the award winning musical from Stephen Sondheim will be performed by the Cotswold Savoyards. A magical tale of a baker and his wife in their quest for a child as they meet up with various fairytale characters.
There's a lot of feel good shows this month, including Super Troupers. Two of Europe's leading tribute bands get together for an evening to celebrate the best of ABBA and the BEE GEES. Shout ! The swinging 60's musical featuring top music of the era with fashion to match. The ultimate 60's feel –good musical. As time Goes By takes a nostalgic look at the songs of the 20's, 30's and 40's and on 27 June there a matinee performance of We'll Meet Again, a light-hearted look at wartime Britain filled with music, comedy and song.
Environmental issues are covered in an innovative way in The Rotten Plot which will be performed in The Theatre Studio at the beginning of the month. An exciting new play about the environment using puppets and actors, which bring to life real life themes of waste and recycling, and care of the planet.
More entertainment in the Theatre Studio includes Telling Wilde Tales, haunting fairy tales written by Oscar Wilde and presented by The Everyman Youth Theatre. Mouse Tale, a show for the whole family brings together music, puppetry and comedy with the help of Wink, Wendy and Theo the mouse.
June finishes with Clare Summerskill and her brand new stage show full of hilarious and thought and thought provoking stand-up.

Just some of the entertainment you'll find at the Everyman Theatre this month.
---
21 May 2008
Explore Gloucestershire

For further information.



OTHER NEWS
• Hot Air Ballooning at Sudeley Castle this weekend
• Vintage Jets to salute the RAF at Kemble Air Day 2008
• Caving fun at Clearwell Caves
• SAVE £££'s - Book in advance for the 2008 Kemble Air Day!
• NEW on-line ticket booking with Stagecoach buses
• Old bangers needed for the 2008 Cotswold Show
• Amy Hatcher coming to the 2008 Cotswold Show
• Performances at the Everyman Theatre in June
• Gloucester Rugby Club tackles the 2008 Cotswold Show
• Out of the Hat - Residents offer extended
• The Red Arrows only date this summer with RIAT 2008
• Performances at the Everyman Theatre in May
• The National Waterways Museum re-opens 24 May
• SPECIAL OFFER at the Cheltenham Chase Hotel
• Tewkesbury Food and Drink Festival – opens its doors this weekend.
• May School Holidays in Gloucestershire 2008
• Asparagus now ready at Primrose Vale & Over Farm
• Enjoy a round of golf at Shipton Golf Course
• Sports Relief re-run at Pittville Park this Sunday
• Listen to the 2008 Cheltenham Jazz Festival PodCast!
• World famous Shakespeare's Globe comes to Sudeley Castle
• Gloucester shouts about its future!
• 2008 Slimbridge Beer Festival
• Your chance to create the new Tewkesbury Smoothie!!!
• Tickets now on sale to the 2008 Cheltenham Science Festival
• NEW high quality maps of Gloucestershire now available!
• NEW 2008 printed guide now available!
• NEW 2008 Photography Competition - Gloucestershire at its Best!
• Do you want to sell your wares at Kemble Air Day 2008?
• What's on at The Everyman in April 2008
• April School Holidays in Gloucestershire 2008
• Last few tickets left for Howlers at the Hall
• Fabulous prizes in to be won April's Competition!
• NEW Cheltenham Food & Drink Festival in June 2008
• Reduced entry to Out of the Hat in Tewkesbury