Pick Your Own Strawberries in Gloucestershire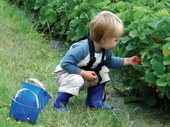 Itís always been one of those signs of the change in seasons. You know that summer has arrived when the strawberry season begins.
Picking your own berries is a great family outing that children of all ages seem to love. Nothing quite beats the satisfaction of enjoying your own hand picked succulent berries as you dig out your favourite recipes. Itís a bit of an educational experience for children as well, as they get to see where some of their food comes from, and how it grows.
Experience of picking fruit with children has however given me the insight to pass on a couple of valuable tips Ė wet wipes and old clothes!!
At Primrose Vale and Over Farm Market you donít even have to bend down, as the strawberries are at waist height esuring that your picking is an easy and enjoyable experience on a sunny day. So that s great news for us, but bad news for the bugs!!
During your visit to Primrse Vale or Over Farm Market you will discover more of what both has to offer:
Primrose Vale, Shurdington Road, Bentham, Cheltenham, GL51 4UA
Tel: 01452 863359
Over Farm Market is situated on the A40 at Over, Nr. Gloucester, GL2 8DB
Tel: 01452 521014
---
Explore Gloucestershire
24 June 2008

For further information.



OTHER NEWS
• AirTattoo beats refund deadline
• Forty years at Clearwell Caves
• Sunday & Late Night Openings at the Art Gallery & Museum
• Pick your own fruit still ripe at Primrose Vale Farm Shop
• A day out deerhound racing at Lodge Park in the Cotswolds
• Mark Horton coasts in to Out of the Hat
• Kidz Comedy Club returns to the Guildhall
• Premium House Prices For Market Towns
• Cutting-edge Cotswolds?
• What a discount! - at The Wharf House at Over near Gloucester
• QHotels wins AA Hotel Group of the year award
• Skydiving with the Red Devils over South Cerney (with video)
• Gloucester Music Society: New season preview!
• Record breaking ticket sales for Cheltenham Literature Festival
• New funny season as Howlers Comedy Club returns
• Leisure@ official re-opening
• Forest Model Village: Grand re-opening
• An 11 mile walk near Cirencester
• Fun Events at Out of the Hat
• Biggest ever Cheltenham Literature Festival in 2008
• 'A Day or More' at the Cheltenham Music Festival
• Europe's biggest mobile log flume comes to Gloucester!
• Review: Dick Whittington Farm Park
• New opening times at the Wharf House
• No tickets available Saturday on the gate for RIAT
• The Longest Day in Gloucestershire (Part II)
• Swindon Town FC at the 2008 Cotswold Show
• The Longest Day in Gloucestershire (Part I)
• Pick Your Own Strawberries in Gloucestershire
• Cotswold Motoring Museum's 30th Birthday!
• The 'Red Devils' are back in town!
• 40th Anniversary Celebrations at Clearwell Caves
• Final appearance of the 'Horse Whisperer'
• Summer school holidays, activities and things to do in Gloucestershire
• Performances at the Everyman Theatre in July
• Racing Day offers with the Cheltenham Chase Hotel
• Summer Sizzler at the Cheltenham Chase Hotel
• 'Cheltenham in Bloom 2008' - Competitions now open!