Gloucester Music Society: New season preview!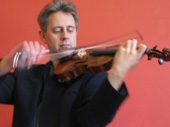 Another exciting season of music is about to burst upon Gloucester!
For a Society which was formed 79 years ago, the emphasis is very much on today. Programmes are designed to appeal to those unfamiliar with "classical" music, as well as seasoned lovers of chamber music, with explorations of music both familiar and unfamiliar presented by world-class musicians from around the world.
We extend a warm welcome to all, whether you attend for a single concert or sign up for the series of five concerts. The concerts next season celebrate the inspiration of two great cities – Vienna and Paris.
The season opens on Thursday 16 October 2008 when the ensemble English Ayres pays tribute to the great Gloucestershire-born composer Vaughan Williams, who studied for a time in Paris, and whose death fifty years ago is being widely commemorated. Other concerts include the Emerald Ensemble on Thursday 20 November 2008 in a programme of Piazzolla and Bartok plus Messiaen's "Quartet for the End of Time", then a visit from the outstanding young Portuguese guitarist Eurico Pereira on Thursday 22 January 2009, to start off the New Year. On Thursday 19 February 2009 the English Piano Trio presents a programme entitled "The Viennese Tradition" and the season concludes on 19 March 2009 with the outstanding young Heath Quartet in a programme of Webern, Berg and Schubert.
All concerts take place at St Mary de Lode Church, Archdeacon Street, Gloucester at 7.30pm and individual tickets are £13.00, £5.00 student, children under 15 free, and parents accompanying children are £8.00. A discount is available for those booking for the series.
For a copy of the brochure visit the website or telephone the number below.
---
Explore Gloucestershire
20 August 2008


From l-r, the English Ayres, Eurico Pereira and the Heath Quartet will all be performing at the Gloucester Music Society's 79th season of classical performances.

For further information.



OTHER NEWS
• AirTattoo beats refund deadline
• Forty years at Clearwell Caves
• Sunday & Late Night Openings at the Art Gallery & Museum
• Pick your own fruit still ripe at Primrose Vale Farm Shop
• A day out deerhound racing at Lodge Park in the Cotswolds
• Mark Horton coasts in to Out of the Hat
• Kidz Comedy Club returns to the Guildhall
• Premium House Prices For Market Towns
• Cutting-edge Cotswolds?
• What a discount! - at The Wharf House at Over near Gloucester
• QHotels wins AA Hotel Group of the year award
• Skydiving with the Red Devils over South Cerney (with video)
• Gloucester Music Society: New season preview!
• Record breaking ticket sales for Cheltenham Literature Festival
• New funny season as Howlers Comedy Club returns
• Leisure@ official re-opening
• Forest Model Village: Grand re-opening
• An 11 mile walk near Cirencester
• Fun Events at Out of the Hat
• Biggest ever Cheltenham Literature Festival in 2008
• 'A Day or More' at the Cheltenham Music Festival
• Europe's biggest mobile log flume comes to Gloucester!
• Review: Dick Whittington Farm Park
• New opening times at the Wharf House
• No tickets available Saturday on the gate for RIAT
• The Longest Day in Gloucestershire (Part II)
• Swindon Town FC at the 2008 Cotswold Show
• The Longest Day in Gloucestershire (Part I)
• Pick Your Own Strawberries in Gloucestershire
• Cotswold Motoring Museum's 30th Birthday!
• The 'Red Devils' are back in town!
• 40th Anniversary Celebrations at Clearwell Caves
• Final appearance of the 'Horse Whisperer'
• Summer school holidays, activities and things to do in Gloucestershire
• Performances at the Everyman Theatre in July
• Racing Day offers with the Cheltenham Chase Hotel
• Summer Sizzler at the Cheltenham Chase Hotel
• 'Cheltenham in Bloom 2008' - Competitions now open!