What a discount! - at The Wharf House at Over near Gloucester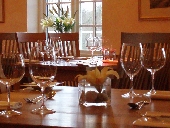 With the roadworks on the A40 still continuing to be a real pain for businesses at Over near Gloucester, the Wharf House restaurant is offering all who dine, a sumptuous special offer.
Until the end of October 2008, the fine dining establishment situated on the banks of the River Severn, is offering two great deals for diners wishing to experience great food this autumn in Gloucestershire.
For diners who spend £50 and over the Wharf House will give you £10 off the bill, but for customers who spend £100 or more, you'll receive a massive £20 discount.
To obtain this fabulous eating out offer, simply download the PDF below, print out and take along with you to the Wharf House, either lunchtime or evening (offer not obtainable on Saturday evenings) - and don't forget to mention you heard of the special offer from Explore Gloucestershire!
The Wharf House is open 7 days a week 10am –5pm and 6.30pm onwards.
All profits from THE WHARF HOUSE will be used for the promotion and restoration of the Hereford and Gloucester Canal.
*Both offers exclude Saturday evenings and any set menus.
OFFER ENDED
---
Explore Gloucestershire
8 September 2008

For further information.



OTHER NEWS
• AirTattoo beats refund deadline
• Forty years at Clearwell Caves
• Sunday & Late Night Openings at the Art Gallery & Museum
• Pick your own fruit still ripe at Primrose Vale Farm Shop
• A day out deerhound racing at Lodge Park in the Cotswolds
• Mark Horton coasts in to Out of the Hat
• Kidz Comedy Club returns to the Guildhall
• Premium House Prices For Market Towns
• Cutting-edge Cotswolds?
• What a discount! - at The Wharf House at Over near Gloucester
• QHotels wins AA Hotel Group of the year award
• Skydiving with the Red Devils over South Cerney (with video)
• Gloucester Music Society: New season preview!
• Record breaking ticket sales for Cheltenham Literature Festival
• New funny season as Howlers Comedy Club returns
• Leisure@ official re-opening
• Forest Model Village: Grand re-opening
• An 11 mile walk near Cirencester
• Fun Events at Out of the Hat
• Biggest ever Cheltenham Literature Festival in 2008
• 'A Day or More' at the Cheltenham Music Festival
• Europe's biggest mobile log flume comes to Gloucester!
• Review: Dick Whittington Farm Park
• New opening times at the Wharf House
• No tickets available Saturday on the gate for RIAT
• The Longest Day in Gloucestershire (Part II)
• Swindon Town FC at the 2008 Cotswold Show
• The Longest Day in Gloucestershire (Part I)
• Pick Your Own Strawberries in Gloucestershire
• Cotswold Motoring Museum's 30th Birthday!
• The 'Red Devils' are back in town!
• 40th Anniversary Celebrations at Clearwell Caves
• Final appearance of the 'Horse Whisperer'
• Summer school holidays, activities and things to do in Gloucestershire
• Performances at the Everyman Theatre in July
• Racing Day offers with the Cheltenham Chase Hotel
• Summer Sizzler at the Cheltenham Chase Hotel
• 'Cheltenham in Bloom 2008' - Competitions now open!