Premium House Prices For Market Towns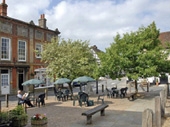 Property in most market towns is more expensive than the average house price in the surrounding county, says new research…
Halifax's new Market Town Review has revealed that 67 per cent of market towns have higher house prices than the county average.
Trading at the highest premium was the town of Beaconsfield, Buckinghamshire, where house prices were 144 per cent greater than the county's average.

In addition, the town averaged by far-and-away the heftiest price tag of all the 112 market towns surveyed in England, at £704,724.
A further 19 of the 25 most expensive market towns were located in southern England.
However, in terms of price growth over the last five years, the majority of top performers hailed from the North, with Seahouses in Northumberland recording the most substantial gains of 111 per cent over this time.
While prices in Saltburn, Durham grew by the same amount, they averaged a more affordable £140,524 compared to Seahouses' average of £203,061.
Despite recording the third highest price growth (99 per cent) between 2003 and 2005, Ferryhill in Durham was easily the most affordable of all the market towns with an average house price of £84,982.
Meanwhile the lowest price growth was reserved for those market towns down south, with bricks and mortar in Midhurst, Sussex, rising by just 21 per cent over the last five years.
Lymm in Cheshire (28 per cent) and Ross On Wye, Herefordshire (44 per cent) were the two non-southern exceptions to the slow-growing five-year field.
Martin Ellis Chief Economist at Halifax comments: "Home buyers continue to be attracted to the high quality of life, architecture, history, setting and community spirit offered by market towns and are prepared to pay a premium to live there.
"Most market towns have higher house prices than other towns in their county. The majority have also seen stronger house price growth than the English average over the past five years."
---
Highest Premium Market Towns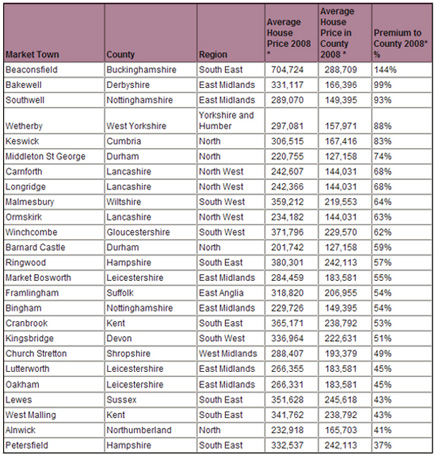 Market Towns With Highest Price Growth 2003-2008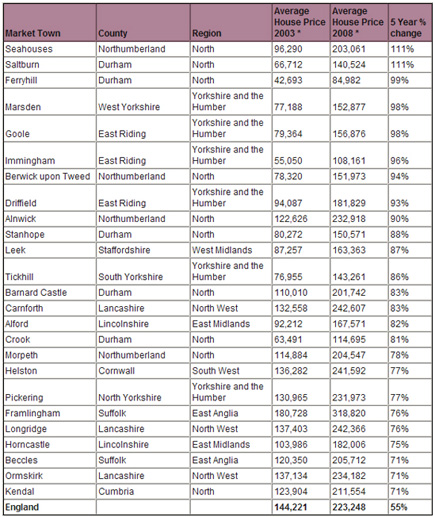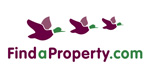 Explore Gloucestershire
9 September 2008 For further information.



OTHER NEWS
• AirTattoo beats refund deadline
• Forty years at Clearwell Caves
• Sunday & Late Night Openings at the Art Gallery & Museum
• Pick your own fruit still ripe at Primrose Vale Farm Shop
• A day out deerhound racing at Lodge Park in the Cotswolds
• Mark Horton coasts in to Out of the Hat
• Kidz Comedy Club returns to the Guildhall
• Premium House Prices For Market Towns
• Cutting-edge Cotswolds?
• What a discount! - at The Wharf House at Over near Gloucester
• QHotels wins AA Hotel Group of the year award
• Skydiving with the Red Devils over South Cerney (with video)
• Gloucester Music Society: New season preview!
• Record breaking ticket sales for Cheltenham Literature Festival
• New funny season as Howlers Comedy Club returns
• Leisure@ official re-opening
• Forest Model Village: Grand re-opening
• An 11 mile walk near Cirencester
• Fun Events at Out of the Hat
• Biggest ever Cheltenham Literature Festival in 2008
• 'A Day or More' at the Cheltenham Music Festival
• Europe's biggest mobile log flume comes to Gloucester!
• Review: Dick Whittington Farm Park
• New opening times at the Wharf House
• No tickets available Saturday on the gate for RIAT
• The Longest Day in Gloucestershire (Part II)
• Swindon Town FC at the 2008 Cotswold Show
• The Longest Day in Gloucestershire (Part I)
• Pick Your Own Strawberries in Gloucestershire
• Cotswold Motoring Museum's 30th Birthday!
• The 'Red Devils' are back in town!
• 40th Anniversary Celebrations at Clearwell Caves
• Final appearance of the 'Horse Whisperer'
• Summer school holidays, activities and things to do in Gloucestershire
• Performances at the Everyman Theatre in July
• Racing Day offers with the Cheltenham Chase Hotel
• Summer Sizzler at the Cheltenham Chase Hotel
• 'Cheltenham in Bloom 2008' - Competitions now open!