Warm up this winter!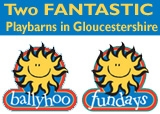 Looking for somewhere to take the kids where they can make new friends and burn some energy in a welcoming and relaxed environment

Join in the fun this winter at one of our fantastic Children's Indoor Playbarns.
Ballyhoo and Fundays Playbarns are packed full of crazy slides, ball ponds and mazes. Younger children are more than welcome at both sites with excellent toddler soft play areas. Refuel and relax in our comfortable lounge and café areas; the perfect place to indulge with a hot chocolate and a piece of cake, while the kids laugh, play and enjoy themselves.
Something to Celebrate?
Children's parties are our speciality, choose a themed party room, and a package to suit your budget then let us host the event for you! Don't forget for the older children and those young at heart, we've The Quest. Take on our Quest commanders in our futuristic laser tag game.
Adults can join in the FUN!
Looking for somewhere exciting and fun to take the gang this Christmas? Our play structures are designed so that adults can easily bounce, swing and crawl their way through our colourful mazes of fun! Office parties, team treats, school groups, clubs, friends and family – celebrate the season and warm up with us!

Please call for booking and further information:
Fundays 01451 822999
Ballyhoo 01242 252205.
If you'd prefer to email please contact us on:
fundaysinfo@aol.com
ballyhooinfo@aol.com


OTHER NEWS
• NEW Forest Nightbus
• New Owners invest in future of Antiques Centre
• Gloucester's new Christmas lights are almost ready
• A Bright future for Gloucester Antiques Centre
• Great British Cheese Festival, Cheltenham
• Councillor opens new CITI bus routes
• New CITI network from Stagecoach
• Warm up this winter!
• Cheltenham web cam added to website!
• Two more maps added!