Vanessa-Mae at Westonbirt Arboretum in July 2009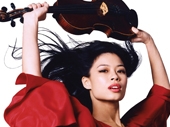 Virtuoso Vanessa-Mae, the world famous violin virtuoso, has announced a West Country date next summer when she will be appearing at Westonbirt Arboretum as part of the Forestry Commission's 2009 concert season.

A prolific talent, Vanessa-Mae was the youngest violinist ever to record the Tchaikovsky and Beethoven violin concertos and had three classical albums to her credit when she was only 13 years old. In her mid-teens, she shattered the mould of the classical virtuoso with the release of her album, The Violin Player, forging a new style that has made her a multi-million-selling worldwide phenomenon and the breakthrough artist who virtually defined the fusion of classical and pop that became known as crossover. The albums that
followed confirmed this success - worldwide sales have topped 10 million so far, earning more than 40 international platinum awards - making her a superstar for whom there seem to be no musical limits.

An explosive live performer, Vanessa-Mae stars in an intensive touring programme that has taken her around the world several times over. She has visited more than 50 countries, including performances in many spectacular venues such as the Kremlin Palace in Moscow, the Acropolis in Athens and New York's Time Square. She was also the only foreign artist invited by the Chinese to perform at the pivotal moment of Reunification of Hong Kong to China.

Vanessa-Mae has collaborated with such pop legends as Janet Jackson and Prince; performed on the soundtrack of the Disney animated feature Mulan; played Bach for the British Royal Family on the 250th anniversary of the composer's death; fiddled as she modelled a wedding dress at a Jean-Paul Gaultier fashion show in Paris; and reached out to the children of the South African township of Soweto, the first international artist to be invited to its music school.

Her stunning presence only adds to her appeal. People magazine has voted Vanessa-Mae one of the "50 Most Beautiful People in the World," and FHM named her one of "The World's 100 Most Beautiful Women." Vanessa is currently working on her next album due for release in 2009.

The Forestry Commission is committed to taking woodlands to new audiences, and making them relevant to people in new ways. The forest tour is self-sustaining, paying for itself, and providing valuable revenue to plough back into the woodland in a variety of environmental and social projects.

---
Event: Vanessa-Mae, with her band and a symphony orchestra
When: Saturday 18th July 2009
Where: Westonbirt Arboretum, Tetbury, Glos.
Tickets: £30.00 (subject to booking fee) go on sale at 9.00am Friday 28 November 2008.
---
Explore Gloucestershire
24 November 2008

For further information.



OTHER NEWS
• Tewkesbury Reindeers and Santa!
• Cheltenham Christmas Lights switch on 2008 with the Honeyz
• Fireworks displays in Gloucestershire 2008
• Save ££££'s with PrintMyOffer.com - check out this weeks offers in Gloucestershire!
• Save ££££'s with PrintMyOffer.com - check out this weeks offers in Gloucestershire!
• Christmas this weekend in Tewkesbury
• December 2008 eNewsletter - Missed out?
• Save ££££'s with PrintMyOffer.com - check out this weeks offers in Gloucestershire!
• Stagecoach buses Christmas and New Year timetables in Gloucestershire
• Slideshow gallery of 'Gloucestershire at its Best' Photography Competition entries
• FREE PARKING! County Council joins up with Regent Arcade in Cheltenham
• Vanessa-Mae at Westonbirt Arboretum in July 2009
• Save ££££'s with PrintMyOffer.com - check out this weeks fantastic offers!!!
• Save ££££'s with PrintMyOffer.com- check out this weeks fantastic offers!!!
• STAR 107.5FM Exclusive. Mike Read new mid morning presenter!
• WIN a family ticket to see Santa at Birdland in the Cotswolds
• Christmas parties at the Chase Hotel - Great offers available!!!
• Cotswold country comfort with 25% OFF food at The Hollow Bottom!
• Autumn Antiques & Fine Art Fair 2008 at the Centaur in Cheltenham
• Beat the Credit Crunch in the run up to Christmas in Gloucestershire with PrintMyOffer.com!
• 2008 Christmas Panto at the Everyman in Cheltenham: ALADDIN
• Preview of Frightmare Halloween event at Over Farm near Gloucester
• Oh deer – more than just a farm shop at Burley Fields Lake!
• Christmas shopping in Gloucester - Opening times
• What's cooking? Tewkesbury Food & Drink Festival lines up James Martin as 2009 Celebrity Chef
• Get your skates on! New skate rink in Cheltenham
• NEW special spooky Halloween events in Gloucestershire section
• Nature Inspires Art at Slimbridge
• End of the road for roadworks on the A40 at Over near Gloucester
• The return of the Nature in Art pre-Christmas Fayre
• Autumn in Glos - enter the 'Gloucestershire at its Best' 2008 photo competition
• FREE Wine with Christmas bookings at The Wharf House
• Bonfire Nights & Fireworks Displays in Gloucestershire
• Xmas in Glos - Where's Santa in Glos? Xmas lights switch on and more!
• WIN a Ghosts of Gloucestershire DVD starring 'Most Haunteds' Richard Felix
• WIN Tickets to see Nobel prize-winning author at The Centaur
• Dates announced for the Cheltenham Food & Drink Festival 2009
• NEW Pirates weekend event in Gloucester sailing into the Docks
• Promote your firework display in Gloucestershire for FREE with Explore Gloucestershire