Bourton-on-the-Water football match in the river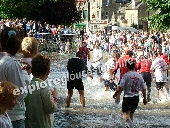 CLICK for details of the Bourton-on-the-Water football match in the river Windrush 2008
The Bourton-on-the-Water football match in the River Windrush is always held on the August Bank Holiday Monday.
---
So off for a nice stroll along the picturesque River Windrush in the lovely setting of Bourton-on-the-Water - or so we thought...
...well certainly not on 28th August 2006, a Bank Holiday Monday!
The Village Green was covered with stalls selling local food and tombolas were there for that lucky dip. A pre-match duck race down the Windrush, was a great warm up for the main spectacle. All in all a wonderful atmosphere was building for the Football Match in the River at Bourton-on-the-Water.

Families gathered along the banks of the river in eager anticipation to watch the local Bourton Rovers play a football match in the river - a tradition going back some seventy odd years.
Fortunately wet suits and breathing apparatus would not be required as the River Windrush flows peacefully through Bourton-on-the-Water at a depth of only about 10 inches.
Braving the cool waters, the two 'six-a-side teams' set up goalposts between the central bridges in the Windrush and then started a 30 minute game of football in the river (15 minutes each half).

We made ourselves comfy and sat back to enjoy this unusual spectacle. Big mistake!
We should have sat in wet suits ourselves!

The match headed off at a sedate start, but before long the enjoyment of everyone was apparent and roars of laughter echoed up and down the river bank The final result was 3-1 (I think) to the reds and the crowd looked as if they had had an argument with a super soaker!.

We all agreed that it was a very enjoable afternoon but perhaps next year we would take a towel!
We'll be back for 2008.
---
OTHER NEWS
• Bourton-on-the-Water football match in the river
• Gloucester Docks
• Newent Onion Fayre
• The Severn Bore
• Christmas Whats On & Events
• Explore gets puzzled at Puzzlewood
• NEW on-line hotel booking service
• Mediaeval Mayhem at Joust
• Up, Up and Away!