Green fingered half term holiday activities with the National Trust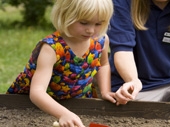 Veg in small spaces: You don't need a garden to plant vegetables.

This half term, the National Trust is demonstrating how radishes can revel in a window box, parsley will prosper in a pot, and lettuce lives very happily in an old watering can.
Growing your own vegetables is a fantastic way for the whole family to spend time. There's nothing more satisfying than cooking a meal made from vegetables you have grown yourself.
Given the right start in life, vegetables will grow anywhere, you don't need a huge vegetable patch to enjoy produce fresher than any you've ever had before.
John Rippin, deputy head gardener at Hidcote Manor Garden says: "Vegetables grow really well anywhere, even in a pot on a windowsill. With lettuce you can just take off a few leaves when you need them and they'll grow more leaves. Children find that really interesting. My kids get a massive amount of satisfaction from growing things and get really excited when they see their seeds coming up. They used to hate lettuce but after growing it for a couple of years they will now eat it.
"I started gardening when I was about five and spent most of my free time on my parents' allotment. It's great to try planting some of the brightly coloured or stripey beans, or grow enormous pumpkins. Picking peas and eating them straight out of the pod is also good fun. My daughter was crawling over to our raspberry bush and eating the raspberries off it before she was even one. I think it's great for them to understand where food comes from."
"This half term at Hidcote Manor, we're running a 'name that vegetable' competition where people will be blindfolded and have to guess the vegetable by touch and smell alone. We're also giving away seeds, tomato plants and pots for people to take away, so it's the perfect opportunity to get started on growing your own."
Also during half term at Newark Park, discover how the kitchen garden was used to feed the household and learn how you can attract wild life into your garden.
At Chedworth Roman Villa and Lodge Park and Sherbone Estate, other activities with a foodie bent are being laid on. Learn how the Romans ate at Chedworth (Roman Food Weekend at Chedworth Roman Villa) and discover what life was like for domestic servants in the 17th century at Lodge Park (Food Glorious Food at Lodge Park) and Sherborne Estate.
Food Glorious Food is part of the National Trust's overall commitment to sustainable food production on all land, and the use of quality, local, seasonal and sustainable food in its kitchens and 150 restaurants. For more information visit foodgloriousfood.org.uk
---
Explore Gloucestershire
19 May 2009
OTHER NEWS
• Vulcan to appear at the Kemble Air Show 2009
• Need somewhere to stay for the Gloucestershire Air Shows in 2009?
• Nine Days to Explore Art in and around Cheltenham
• Wychwood 2009 - Final Line-ups
• "Tapas on the Terrace" at The Wharf House near Gloucester
• Angels in the Forest - Westonbirt Arboretum
• Tree-mendous fun for everyone - Festival of the Tree at Westonbirt Arboretum, 24 - 31 August 2009
• Meet the top gun pilots who will be displaying at Kemble Air Show 2009
• Sudeley Castle's gardens alongside Eden Project in top 5 gardens to visit in the South West
• SUMMER MADNESS! Barcelo Cheltenham Park Hotel: £89 per night, per room for 2!!
• New art gallery opening at Gloucestershire Arts & Crafts, Brockworth Court Farm
• A taste of Italy in Cheltenham: Bottelinos, restaurant review by Sam Dexter
• Gloucester Quays Opens its Doors to Shoppers
• Hogwarts Express at Gloucestershire Warwickshire Railway
• Whitsun School Holiday activities in Gloucestershire 2009
• Green fingered half term holiday activities with the National Trust
• A day out with Thomas in the Forest of Dean
• USAF to star at 2009 Kemble Air Show
• A day in the life of Figaro
• White Room Images- competition and offers at The Suffolk Street Traders Fair
• Rare Vulcan set to soar at the 2009 Royal International Air Tattoo
• Wychwood Launches the First Literature Festival for Children
• Gloucester Quays Designer Outlet announces its line up of opening events!
• A blank canvas at The Brewery in Cheltenham
• Asparagus now ready at Primrose Vale & Over Farm Market
• Name the Science Festival ale Competition
• Little Boots confirmed for Wychwood 2009
• Heston Blumenthal at the 2009 Times Cheltenham Science Festival
• Monty - New arrival at Cotswold Wildlife Park
• Gok Wan to Officially Open Gloucester Quays Designer Outlet
• Royal Navy airpower demo at Royal International Air Tattoo (RIAT 2009)
• Last Swan leaves Slimbridge
• Easter Entry offer at Out of the Hat
• Easter School Activities in Gloucestershire
• Send a Little Ray of Sunshine and raise money for Sue Ryder Care
• Cotswolds Attractions Group - Juicy Snails, Dodgy Duck and Naked Gardeners!
• Little Farmer Food Festival - Stalls still available!
• 2009 'Gloucestershire at its Best' photography competition - Opens 1 April
• NEW exhibition - Mini Boutique – from mini cars to mini-skirts
• Night of the Champions at GL1
• Last chance to save £££'s on RIAT 2009 tickets!
• LATEST OFFER! Kids go FREE at Cotswold Motoring Museum
• Master-Chef, great food, drink & music at Cheltenham Food & Drink Festival 2009
• Come and see Henry VIII at Sudeley Castle!
• Great travel offer from Stagecoach MegaRider!
• New 2009 Explore Gloucestershire printed guide now available!
• Kids go FREE at Prinknash Bird & Deer Park
• Spring arrives at Dick Whittington Farm Park
• Air Tattoo Welcomes 51st Nation on board