Gloucester Quays Opens its Doors to Shoppers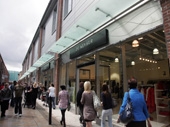 Today sees the opening of phase one of the hugely anticipated Gloucester Quays Designer Outlet located between the Peel Centre Retail Park and the City's Historic Docks.

A stunning seven-minute acrobatic display by world-renowned silk acrobats suspended from the £6 million eye catching gull-wing roof, marked the opening of the £400 million centre.
Peel and British Waterways, joint owners and creators, despite the recession have hit back and opened with phase one let at almost 76% - a major achievement and well above the average for new shopping complexes.
40 stores have opened their doors today with a further 16 to follow in the coming weeks, offering shoppers a vibrant and stylish mix of feminine chic, tailored menswear, outdoor wear, homeware, accessories, high street favourites, and even the first musical instrument outlet in the country.
With an outstanding mix of high street and designer labels at up to 60% off recommended retail prices and with shops open until 8pm every weekday, 10-7pm Saturday's and 10-5pm Sunday's, it is the perfect place to find style and value for you or your home.
Today marks the first day of a 10 day line up of events taking place between 21st and 31st May, including the Miss Gloucestershire competition, Gloucester Has Talent, nautical themed entertainment, the Tall Ships Festival and Official opening of the centre on the 30th May by style guru Gok Wan.
Franco Muccini, Centre Director at Gloucester Quays Designer Outlet said, "We have pulled out all the stops to make phase one of the designer outlet a success despite the current economic climate. We have a brilliant line up of stores and brands with something for everyone from designer brands to high street names and with more to come over the coming weeks and months."
Gloucester Quays has been 10 years in the making, and is a joint venture partnership between Peel and British Waterways.
Lindsey Ashworth, Development Director at Peel said, "Today is truly a momentous occasion and quite an emotional one for me having personally worked on Gloucester Quays for more than 10 years. The fact that we have opened our doors to the public today is testament to the dedication and hard work of so many people who have worked alongside me. "

"The beautiful marble floors in the malls and high quality of the design and materials throughout in my view will show this to be the most attractive Designer Outlet in the UK, possibly Europe. "
"A big thanks for the continued help support of Councillors and the people of Gloucester, without whom, Gloucester Quays would never have happened. Whilst we are incredibly proud of what has been achieved here in opening Phase one of our Designer Outlet, there is a lot more to come. I believe that Gloucester Quays will be a turning point for the fortunes of this great city and lead it into better and more prosperous times."

Tony Hales, Chairman at British Waterways, commented, "Almost 200 years after the docks brought prosperity to Gloucester as a bustling link between Britain and the rest of the world, the opening of Gloucester Quays marks an important milestone in modern day renaissance of the city and its historic waterfront. "Today the cargo ships have long gone and the docks have a new purpose - serving the ever increasing use of our nation's waterways for leisure and tourism. The opening of the designer outlet centre is a fantastic addition, complementing the other attractions, the boats and open space which make the docks such a treasured national asset."
When completed, in addition to phase one of the Designer Outlet Centre, Gloucester Quays will comprise –
A 100 bed Travelodge Hotel (opening June)
A new Sainsbury's Foodstore (opening June)
A new antiques centre (opening July) 
Cafes, Bars and restaurants overlooking the canal (construction of this phase due to complete later this year and an expected opening of this phase early 2010)
Additional new retail stores in the Designer Outlet 
1000 new homes and a new marina 
A 4 star 80 bedroom hotel 
Leisure Facilities 
Office space
Gloucester Quays started with a new college for Gloucester in 2005 together with a new canal bridge and completion of the inner relief road for the City.
The development will create more than 1000 new permanent jobs in addition to the 600 plus construction jobs.
A full store list and schedule of opening period events can be found on the Gloucester Quays website www.gloucesterquays.co.uk
---
Explore Gloucestershire
21 May 2009
OTHER NEWS
• Vulcan to appear at the Kemble Air Show 2009
• Need somewhere to stay for the Gloucestershire Air Shows in 2009?
• Nine Days to Explore Art in and around Cheltenham
• Wychwood 2009 - Final Line-ups
• "Tapas on the Terrace" at The Wharf House near Gloucester
• Angels in the Forest - Westonbirt Arboretum
• Tree-mendous fun for everyone - Festival of the Tree at Westonbirt Arboretum, 24 - 31 August 2009
• Meet the top gun pilots who will be displaying at Kemble Air Show 2009
• Sudeley Castle's gardens alongside Eden Project in top 5 gardens to visit in the South West
• SUMMER MADNESS! Barcelo Cheltenham Park Hotel: £89 per night, per room for 2!!
• New art gallery opening at Gloucestershire Arts & Crafts, Brockworth Court Farm
• A taste of Italy in Cheltenham: Bottelinos, restaurant review by Sam Dexter
• Gloucester Quays Opens its Doors to Shoppers
• Hogwarts Express at Gloucestershire Warwickshire Railway
• Whitsun School Holiday activities in Gloucestershire 2009
• Green fingered half term holiday activities with the National Trust
• A day out with Thomas in the Forest of Dean
• USAF to star at 2009 Kemble Air Show
• A day in the life of Figaro
• White Room Images- competition and offers at The Suffolk Street Traders Fair
• Rare Vulcan set to soar at the 2009 Royal International Air Tattoo
• Wychwood Launches the First Literature Festival for Children
• Gloucester Quays Designer Outlet announces its line up of opening events!
• A blank canvas at The Brewery in Cheltenham
• Asparagus now ready at Primrose Vale & Over Farm Market
• Name the Science Festival ale Competition
• Little Boots confirmed for Wychwood 2009
• Heston Blumenthal at the 2009 Times Cheltenham Science Festival
• Monty - New arrival at Cotswold Wildlife Park
• Gok Wan to Officially Open Gloucester Quays Designer Outlet
• Royal Navy airpower demo at Royal International Air Tattoo (RIAT 2009)
• Last Swan leaves Slimbridge
• Easter Entry offer at Out of the Hat
• Easter School Activities in Gloucestershire
• Send a Little Ray of Sunshine and raise money for Sue Ryder Care
• Cotswolds Attractions Group - Juicy Snails, Dodgy Duck and Naked Gardeners!
• Little Farmer Food Festival - Stalls still available!
• 2009 'Gloucestershire at its Best' photography competition - Opens 1 April
• NEW exhibition - Mini Boutique – from mini cars to mini-skirts
• Night of the Champions at GL1
• Last chance to save £££'s on RIAT 2009 tickets!
• LATEST OFFER! Kids go FREE at Cotswold Motoring Museum
• Master-Chef, great food, drink & music at Cheltenham Food & Drink Festival 2009
• Come and see Henry VIII at Sudeley Castle!
• Great travel offer from Stagecoach MegaRider!
• New 2009 Explore Gloucestershire printed guide now available!
• Kids go FREE at Prinknash Bird & Deer Park
• Spring arrives at Dick Whittington Farm Park
• Air Tattoo Welcomes 51st Nation on board