Tree-mendous fun for everyone - Festival of the Tree at Westonbirt Arboretum, 24 - 31 August 2009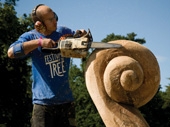 Woodcarvers at work, trips into the treetops or some gentle retail therapy this year Westonbirt Arboretum's Festival of the Tree has something for everyone. From Monday 24 August, 12 talented sculptors will take up their chainsaws and chisels and carve out fabulous giant sculptures - all from tree trunks recycled from this much-loved Forestry Commission estate, and made ready for auction on Bank Holiday Monday in support of the charity Tree Aid.

Throughout the week, there's also loads of family fun, from wand making and giant willow weaving to wildflower walks and the William Woodworm trail. New this year, Westonbirt's very own Laboratree' tipi has everything from gardeners' question times with our Plant Centre experts to films and Meet the scientist' sessions. Come inside and find out why trees are so important for the future.

Sustainability is at the heart of Westonbirt's woodland management, and during the week visitors can watch the Arboretum's talented tree team at work, have a go at green woodworking or help weave a giant willow structure. There are also Wood Works' guided walks into the wilds of Silk Wood, taking in the new-raised medieval-style craft barn along with hurdle and charcoal making.

Then over the long Bank Holiday weekend from Friday 28 - Monday 31 August, the festival is buzzing as the tented woodcraft exhibition gets up and running - with over 150 craftsmen and women demonstrating and selling their wares. Top woodworking stars such as Canadian Rob Cosman will give free masterclasses through each day, and in the new open-air arena there are loads of demonstrations, from chair-making to Morris dancing.

There's so much to see and do, it's well worth planning ahead. For the full programme of events, go to www.forestry.gov.uk/westonbirt

Westonbirt is open all year round. The Festival of the Tree is open from 9am-5pm. During the festival, admission to the whole arboretum is £8 for adults, £7 concessions, £3 for children (18yrs and under). Discounted tickets for return visits to the festival will also be available.

Westonbirt Arboretum is three miles south west of Tetbury on the A433 (Tetbury to Bath Road). It is 10 miles north east of Junction 18 of the M4, and south-east of junction 13 of the M5.

Did you know?
Each year, the Festival of the Tree sculptors use about 24 tonnes of Westonbirt wood to bring their designs to life.
Over the 17 years of Sculptree, 400 tonnes of Westonbirt timber has been used - that's equivalent to 80 African elephants.
This year, there's a female sculptor - Mandy Schmidt from Bristol.
Westonbirt trees are felled as part of an ongoing sustainability plan. Wood used during the festival come from trees declared dead, damaged or dangerous - no timber is specially felled for use at this event.
When they are growing, trees absorb carbon dioxide from the atmosphere... when the wood is made into a sculpture the carbon remains locked away for the lifetime of that product.
The Festival of the Tree showcases some of the UK's finest woodworking skills.
---
Explore Gloucestershire
22 May 2009

For further information.



OTHER NEWS
• Vulcan to appear at the Kemble Air Show 2009
• Need somewhere to stay for the Gloucestershire Air Shows in 2009?
• Nine Days to Explore Art in and around Cheltenham
• Wychwood 2009 - Final Line-ups
• "Tapas on the Terrace" at The Wharf House near Gloucester
• Angels in the Forest - Westonbirt Arboretum
• Tree-mendous fun for everyone - Festival of the Tree at Westonbirt Arboretum, 24 - 31 August 2009
• Meet the top gun pilots who will be displaying at Kemble Air Show 2009
• Sudeley Castle's gardens alongside Eden Project in top 5 gardens to visit in the South West
• SUMMER MADNESS! Barcelo Cheltenham Park Hotel: £89 per night, per room for 2!!
• New art gallery opening at Gloucestershire Arts & Crafts, Brockworth Court Farm
• A taste of Italy in Cheltenham: Bottelinos, restaurant review by Sam Dexter
• Gloucester Quays Opens its Doors to Shoppers
• Hogwarts Express at Gloucestershire Warwickshire Railway
• Whitsun School Holiday activities in Gloucestershire 2009
• Green fingered half term holiday activities with the National Trust
• A day out with Thomas in the Forest of Dean
• USAF to star at 2009 Kemble Air Show
• A day in the life of Figaro
• White Room Images- competition and offers at The Suffolk Street Traders Fair
• Rare Vulcan set to soar at the 2009 Royal International Air Tattoo
• Wychwood Launches the First Literature Festival for Children
• Gloucester Quays Designer Outlet announces its line up of opening events!
• A blank canvas at The Brewery in Cheltenham
• Asparagus now ready at Primrose Vale & Over Farm Market
• Name the Science Festival ale Competition
• Little Boots confirmed for Wychwood 2009
• Heston Blumenthal at the 2009 Times Cheltenham Science Festival
• Monty - New arrival at Cotswold Wildlife Park
• Gok Wan to Officially Open Gloucester Quays Designer Outlet
• Royal Navy airpower demo at Royal International Air Tattoo (RIAT 2009)
• Last Swan leaves Slimbridge
• Easter Entry offer at Out of the Hat
• Easter School Activities in Gloucestershire
• Send a Little Ray of Sunshine and raise money for Sue Ryder Care
• Cotswolds Attractions Group - Juicy Snails, Dodgy Duck and Naked Gardeners!
• Little Farmer Food Festival - Stalls still available!
• 2009 'Gloucestershire at its Best' photography competition - Opens 1 April
• NEW exhibition - Mini Boutique – from mini cars to mini-skirts
• Night of the Champions at GL1
• Last chance to save £££'s on RIAT 2009 tickets!
• LATEST OFFER! Kids go FREE at Cotswold Motoring Museum
• Master-Chef, great food, drink & music at Cheltenham Food & Drink Festival 2009
• Come and see Henry VIII at Sudeley Castle!
• Great travel offer from Stagecoach MegaRider!
• New 2009 Explore Gloucestershire printed guide now available!
• Kids go FREE at Prinknash Bird & Deer Park
• Spring arrives at Dick Whittington Farm Park
• Air Tattoo Welcomes 51st Nation on board