Nine Days to Explore Art in and around Cheltenham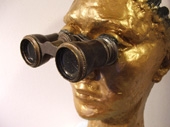 You have nine days to explore the artistic life of Cheltenham town and its countryside. There will be many venues in the town but, especially this year, the Festival reaches outside Cheltenham into the studios, homes and galleries of the wider Cotswolds area.
Artists are opening up their studios and homes. A great time to explore and see wonderful work in unexpected places – from garden sheds to churches. Churches will be transformed into galleries, wonderful places to stand back and absorb paintings. University of Gloucestershire students will exhibit at Frances Close Hall and other artists will be showing at St Luke's Church and All Saints Church.
A visitor to the 2007 event, Suzanne Temple said "This is an intriguing opportunity to see where and how all that creativity happens. It's a really great day out."
So get out and experience the processes involved – see sketchbooks, kilns, wheels, printing and bookbinding presses, jewellery benches, easels and smell the paint. Above all, talk to the artists who relish the contact with an appreciative audience. If you are lucky you may find a venue that is offering cream teas.
Experienced artists and makers will be exhibiting alongside young and emerging artists. There is a huge variety to see and so this is a unique opportunity to acquire established and new artwork.
Photographic students from Cheltenham Bournside and Sixth Form Centre will be curating their own exhibition, turning a domestic space into a gallery which they will share with a group of other artists.
You can join in as well, again, for free. St Luke's Church is holding adult workshops and talks. Cheltenham Museum and Art Gallery is hosting "Kidzart" for children and "Artists in Action" where you can see artists such as Jo Lucas, working. Jo, is new to Cheltenham, and has a fascinating painting practice. She places her canvasses on the floor and layers paint onto them to sensitively evoke our local landscape – the Cotswolds over to the Malvern Hills.
All the participating artists are listed in the free Guide (which includes a map to locate all studios) is distributed throughout Cheltenham and its surrounding areas. Get a copy from Cheltenham and other Tourist Information Offices, Cheltenham Town Hall and Cheltenham Art Gallery and Museum.
For more information about this years event download the following 2009 Cheltenham Art Festival & Open Studio guide book or see the website below.

---

 Cheltenham Art Festival & Open Studio guide book 2009
 (4.67 MB)
---
Explore Gloucestershire
5 June 2009

Work by Gillian Lever, Niki Crew and Fiona McIntyre

For further information.



OTHER NEWS
• Vulcan to appear at the Kemble Air Show 2009
• Need somewhere to stay for the Gloucestershire Air Shows in 2009?
• Nine Days to Explore Art in and around Cheltenham
• Wychwood 2009 - Final Line-ups
• "Tapas on the Terrace" at The Wharf House near Gloucester
• Angels in the Forest - Westonbirt Arboretum
• Tree-mendous fun for everyone - Festival of the Tree at Westonbirt Arboretum, 24 - 31 August 2009
• Meet the top gun pilots who will be displaying at Kemble Air Show 2009
• Sudeley Castle's gardens alongside Eden Project in top 5 gardens to visit in the South West
• SUMMER MADNESS! Barcelo Cheltenham Park Hotel: £89 per night, per room for 2!!
• New art gallery opening at Gloucestershire Arts & Crafts, Brockworth Court Farm
• A taste of Italy in Cheltenham: Bottelinos, restaurant review by Sam Dexter
• Gloucester Quays Opens its Doors to Shoppers
• Hogwarts Express at Gloucestershire Warwickshire Railway
• Whitsun School Holiday activities in Gloucestershire 2009
• Green fingered half term holiday activities with the National Trust
• A day out with Thomas in the Forest of Dean
• USAF to star at 2009 Kemble Air Show
• A day in the life of Figaro
• White Room Images- competition and offers at The Suffolk Street Traders Fair
• Rare Vulcan set to soar at the 2009 Royal International Air Tattoo
• Wychwood Launches the First Literature Festival for Children
• Gloucester Quays Designer Outlet announces its line up of opening events!
• A blank canvas at The Brewery in Cheltenham
• Asparagus now ready at Primrose Vale & Over Farm Market
• Name the Science Festival ale Competition
• Little Boots confirmed for Wychwood 2009
• Heston Blumenthal at the 2009 Times Cheltenham Science Festival
• Monty - New arrival at Cotswold Wildlife Park
• Gok Wan to Officially Open Gloucester Quays Designer Outlet
• Royal Navy airpower demo at Royal International Air Tattoo (RIAT 2009)
• Last Swan leaves Slimbridge
• Easter Entry offer at Out of the Hat
• Easter School Activities in Gloucestershire
• Send a Little Ray of Sunshine and raise money for Sue Ryder Care
• Cotswolds Attractions Group - Juicy Snails, Dodgy Duck and Naked Gardeners!
• Little Farmer Food Festival - Stalls still available!
• 2009 'Gloucestershire at its Best' photography competition - Opens 1 April
• NEW exhibition - Mini Boutique – from mini cars to mini-skirts
• Night of the Champions at GL1
• Last chance to save £££'s on RIAT 2009 tickets!
• LATEST OFFER! Kids go FREE at Cotswold Motoring Museum
• Master-Chef, great food, drink & music at Cheltenham Food & Drink Festival 2009
• Come and see Henry VIII at Sudeley Castle!
• Great travel offer from Stagecoach MegaRider!
• New 2009 Explore Gloucestershire printed guide now available!
• Kids go FREE at Prinknash Bird & Deer Park
• Spring arrives at Dick Whittington Farm Park
• Air Tattoo Welcomes 51st Nation on board