Painted Violins in surprising places!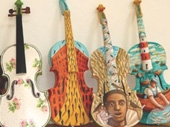 Keep your eyes peeled for painted instruments in unexpected places from 3-18 July as the Cheltenham Music Festival takes over the town.

Painted Violins is a unique community celebration which combines the beauty of art and music. It runs as part of Cheltenham Music Festival and in complement to the Painted Quartets exhibition at the Summerfield Gallery.

Local school children, community centres and art groups were invited to join the project to create stunning arts of work inspired by violins. Each participant was given a cardboard cut-out violin as a blank canvas, with a short history of the string quartet on the back for inspiration and a sampler CD to listen to as they painted.

The result is a display of over 1000 unique, creative and inspiring painted violins at the Brewery on Henrietta Street, in the window exhibition space of the Cheltenham Art Gallery & Museum and in shop windows throughout Cheltenham.

Festival Director Meurig Bowen is thrilled by the success of the project,

"I am really delighted by the diversity of groups taking part in this project - from infants to A-level schoolchildren, community groups, art groups, Brownie packs - and the geographical spread - all corners of the county, and even into Herefordshire.'

Both the quality and range of the work is staggering too. People have really had fun adorning this unusual, curvaceous shape. There's fantasy, humour, surprise, delicacy and loving attention to detail in abundance."

The 65th Cheltenham Music Festival is all about celebration and getting people involved, and this project, Cardboard Violins, is a real stand-out part of all this.'


Demelsa Coleman of The Brewery commented, "We are delighted to be able to accommodate the many hundreds of brightly coloured violins here in one of our empty units at the Brewery. The exhibition has really livened up the space and has turned the rather blank hoarding into a wonderful spectacle. The effort from all of the pupils who took part in this has been astounding - there are some really fun and quirkily decorated violins. We hope that many people from Cheltenham will come along to enjoy this exciting exhibition."

Painted Violins are on display now until the end of the Festival at The Brewery and Cheltenham Art Gallery & Museum, Painted Quartets - the three dimensional main exhibition - will be open throughout the festival at the Summerfield Gallery, Pittville Campus.
---
Explore Gloucestershire
1 July 2009 For further information.



OTHER NEWS
• Can You Dig It? Yes you can at the Dean Heritage Centre!
• Cheltenham gets dancing to raise funds for local cancer charity
• 2009 Battle of Britain Weekend at Kemble Airport - latest news
• HERITAGE OPEN DAYS: Free admission at Dean Heritage Centre this weekend
• Watch the 2009 Bourton-on-the-Water football match in the river Windrush
• Early Bird Offer. 20% off your Christmas party at Barcelo Cheltenham Park Hotel
• News from St Augustines Farm - New camera obscura
• Outstanding sales for The Times 2009 Cheltenham Literature Festival
• Free venue hire at 'The Boogie Lounge' featuring the 'Funkasino'!
• Earthworks by painter at the Dean Heritage Centre
• 21 years of Didmarton Bluegrass Festival 2009 at Kemble Airport
• Watch the new Birdland Park & Gardens video produced by Explore Gloucestershire
• Cheltenham's art gallery and museum wins a £500k grant
• Westonbirt Arboretum blazes an Autumn Trail
• Steam Along to Sudeley! Fantastic offer from two top Gloucestershire visitor attractions!
• A message from Explore Gloucestershire's media partners STAR 107.5FM
• Otter family makes a splash at WWT Slimbridge
• Gloucester Antiques Centre moving to Gloucester Quays Designer Outlet
• Priority booking, exclusive discounts, outstanding speakers at the 2009 Cheltenham Literature Festival
• Explore Gloucestershire Exclusive: Webcam installed at Birdland in the Cotswolds!
• Painted Violins in surprising places!
• WIN family tickets to the best visitor attractions in Gloucestershire + more!
• Watch programme of events video for the 2009 Cheltenham Music Festival
• SAVE 20% - Buy tickets to the 2009 Cotswold Show on-line now!
• Get ready for Summer school holidays in Gloucestershire 2009
• Watch the hilarious TITAN the Robot at The Brewery in Cheltenham
• PYO Strawberries in Gloucestershire at Primrose Vale & Over Farm
• PAMPERING WEEKEND! Barcelo Cheltenham Park Hotel: £325 per room including upgrade!
• RELAX & UNWIND! Barcelo Cheltenham Park Hotel from £89!
• 'Six of the Best' events in Gloucestershire with STAR 107.5FM
• GIRLIE GETAWAY! Barcelo Cheltenham Park Hotel: £89 per person including pampering session!
• The latest news on the 2009 Royal International Air Tattoo