Otter family makes a splash at WWT Slimbridge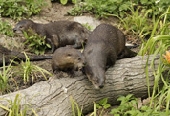 A family of four excited otters took their first refreshing dip in their new home at WWT Slimbridge today.

The otters are the first arrivals at the wetland centre's forthcoming exhibit Back from the Brink, which opens oto the public on 29 July and will give visitors the unique opportunity to see wetland mammals including beavers and water voles up close.

The family of four North American female otters includes mum Flo, her eldest daughter Mo and two nameless young cubs, just 5 months old.
John Crooks, Slimbridge mammal keeper, said: "We just can't agree on two names for the babies so we have been calling them 'the cubs'. Hopefully our visitors can come up with some good names and help us decide! Otters are incredibly lively and engaging wetland mammals so they really will bring some excitement to Slimbridge this summer. We hope they settle in well and enjoy meeting their adoring public!"
The otter pool and viewing gallery will be open to the public on Wednesday 29 July and staff at WWT hope that visitors will suggest some appropriate names for the young cubs before the official opening of the Back from the Brink on Tuesday 28 July. Suggestions for both names along with the entrants name, address and telephone number should be sent to name.otters@wwt.org.uk and the winner will be invited to the official opening to meet the otters, beavers and other wetland mammals.
WWT has carefully recreated the historic landscape of the River Severn for Back from the Brink. Visitors will meet many of the mammals that were once abundant in our wetlands. The otter pool has a viewing gallery so visitors can see them frolicking. The smaller mammals such as water shrews, harvest mice and water voles will have special areas so visitors can see them up close. And the beaver lodge is recorded on CCTV so visitors can see all their activities throughout the day. Visitors can also relax around the fire pit at the Mesolithic camp where they'll hear stories and learn all about the history and wildlife of the Severn. .
Veronica Morriss, senior operations manager at WWT Slimbridge, said: "Back from the Brink will be a great day out for families; to meet our otters, see the evidence of our busy beavers and take part in wide range of new events. By bringing visitors closer to our most charismatic and popular wetland mammals, WWT Slimbridge hopes to get people thinking about important conservation issues such as wetland habitat loss, species decline and extinction and the potential re-introduction of once native species to the British landscape."
---
Explore Gloucestershire
14 July 2009

For further information.



OTHER NEWS
• Can You Dig It? Yes you can at the Dean Heritage Centre!
• Cheltenham gets dancing to raise funds for local cancer charity
• 2009 Battle of Britain Weekend at Kemble Airport - latest news
• HERITAGE OPEN DAYS: Free admission at Dean Heritage Centre this weekend
• Watch the 2009 Bourton-on-the-Water football match in the river Windrush
• Early Bird Offer. 20% off your Christmas party at Barcelo Cheltenham Park Hotel
• News from St Augustines Farm - New camera obscura
• Outstanding sales for The Times 2009 Cheltenham Literature Festival
• Free venue hire at 'The Boogie Lounge' featuring the 'Funkasino'!
• Earthworks by painter at the Dean Heritage Centre
• 21 years of Didmarton Bluegrass Festival 2009 at Kemble Airport
• Watch the new Birdland Park & Gardens video produced by Explore Gloucestershire
• Cheltenham's art gallery and museum wins a £500k grant
• Westonbirt Arboretum blazes an Autumn Trail
• Steam Along to Sudeley! Fantastic offer from two top Gloucestershire visitor attractions!
• A message from Explore Gloucestershire's media partners STAR 107.5FM
• Otter family makes a splash at WWT Slimbridge
• Gloucester Antiques Centre moving to Gloucester Quays Designer Outlet
• Priority booking, exclusive discounts, outstanding speakers at the 2009 Cheltenham Literature Festival
• Explore Gloucestershire Exclusive: Webcam installed at Birdland in the Cotswolds!
• Painted Violins in surprising places!
• WIN family tickets to the best visitor attractions in Gloucestershire + more!
• Watch programme of events video for the 2009 Cheltenham Music Festival
• SAVE 20% - Buy tickets to the 2009 Cotswold Show on-line now!
• Get ready for Summer school holidays in Gloucestershire 2009
• Watch the hilarious TITAN the Robot at The Brewery in Cheltenham
• PYO Strawberries in Gloucestershire at Primrose Vale & Over Farm
• PAMPERING WEEKEND! Barcelo Cheltenham Park Hotel: £325 per room including upgrade!
• RELAX & UNWIND! Barcelo Cheltenham Park Hotel from £89!
• 'Six of the Best' events in Gloucestershire with STAR 107.5FM
• GIRLIE GETAWAY! Barcelo Cheltenham Park Hotel: £89 per person including pampering session!
• The latest news on the 2009 Royal International Air Tattoo