Restoration & Repair of Berkeley Castle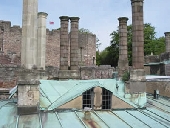 WORK HAS STARTED - PLEASE KEEP YOUR DONATIONS COMING IN!

English Heritage funded the undertaking of a detailed condition survey in 2004/5, which has allowed Berkeley Castle Charitable Trust to quantify the scale of repairs required for the Castle and to set priorities for those areas of work that need the most urgent attention.

Repairs and conservation work totalling c. £5.3 million were identified, and these were ranked in order of urgency from Priority A: work needed to be undertaken immediately, through to Priority D: work needed over the next 5-10 years.

The Roofscape, with its magnificent chimneys and sweeping lead and copper cladding, will cost £920,000 to ensure the Castle is sealed from the elements.

The External Walls, primarily made of sandstone, have survived remarkably well, given that some were constructed almost 900 years ago. £1.5 million is required to repair badly weathered areas and restore key features, including very important Noman carving.

Internally, the Charity needs to spend £600,000 to repair and restore important areas, including the internationally important 14th century painted decorations in the Morning Room.

Outdated and Inefficient Services need £2.4 million spent on them to ensure that the building meets current standards.

In total, we need to raise £5.5 million to complete these essential works on one of Britain's most important buildings. The Charity uses all income from visitors and events to cover the major running costs of the Castle, but needs support to complete the work and ensure that the nation can appreciate the splendour of Berkeley castle for at least another 900 years.

How can you help?

Please support us by making a donation or join us as a Friend of Berkeley Castle. Friends and Corporate Sponsors gain free admission to the Castle (excluding special events) for a year and advance notice of concerts and events.

Please follow this link to go to our Castle Resoration Appeal Form.

For further information.



OTHER NEWS
• A Howling Success!
• 'Lucky' to be alive!
• Refurbishment completed at The Chase
• Restoration & Repair of Berkeley Castle
• NEW Bus Service for Tewkesbury
• Snowy Web Cam
• Virtual Guide now available!
• Howlers Sell Out!
• Holst Museum Appeal