Earthworks by painter at the Dean Heritage Centre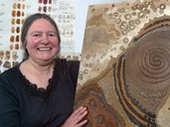 Innovative artist Di Pattison opens a new exhibition of works in real earth pigments at the Dean Heritage Centre on Saturday 1 of August 2009.

Di Pattison previously lived in Stroud with her husband, a Lydney man, and they now live near Cambridge.

She has over twenty years experience in the art world as a teacher, designer and illustrator, but since 2004 has concentrated on painting. She has exhibited with government and other heritage organisations in England and Ireland, at Buxton Art Gallery, the Royal Birmingham Society of Artists and most recently at First View Gallery, Stourhead in Wiltshire and with Cambridge Open Studios. After this show in the Forest she has a teaching and painting residency at the prestigious Cyprus International Art School. She also writes, and is completing a book about prehistoric sculpture in Wessex for BAR, an Oxford-based academic publisher.

She has returned to the roots of her inspiration and her fascination with landscape and the ancient past, making her pigments by grinding the rocks, soils and clays she collects on her travels as people did before industry and way back into prehistory. She says "I don't use the paints to simply recreate what people did in the past. Instead I give my pictures a very contemporary and sensual treatment by making richly textured surfaces, binding thick paints with acrylic resins on large canvases. Earth colours are surprisingly varied and noticeably mellower than today's chemical colours and they can be ground very coarsely or finely to give anything from a crumbly or cracked look to a fine translucent glaze."

The earth colours in the Forest and in Gloucestershire generally are among the most varied and vivid in the country, ranging from coal dust, to cream Cotswold clays, and all the reds and browns in between. Di said "I was very pleased to be invited to exhibit at the Dean Heritage Centre, because at nearby Clearwell Caves, ochre pigments have been mined and produced since the Iron Age so there is a connection with this ancient tradition, which is featured in a display at the Centre". Di also gets white from Wiltshire chalk and Cambridgeshire clay while rare greens and lilac are found in Western Ireland.

On the opening day of the exhibition, the 1st of August, Di will be demonstrating and selling hand-ground pigments and hand-made pastel crayons and doing some painting outside the centre if the weather is fine. This will tie-in with the Centre's Can You Dig It? event which runs the same weekend. She will do this again over August Bank Holiday, when the Centre hosts a Have-a-go Rural Skills Day on Monday the 31st August. Original paintings and a range of prints and cards are for sale throughout the show.

The exhibition runs until Thursday 10th September.
Dean Heritage Centre, Camp Mill, Soudley, Cinderford, Forest of Dean, Gloucestershire, GL14 2UB
---
Explore Gloucestershire
31 July 2009

For further information.



OTHER NEWS
• Can You Dig It? Yes you can at the Dean Heritage Centre!
• Cheltenham gets dancing to raise funds for local cancer charity
• 2009 Battle of Britain Weekend at Kemble Airport - latest news
• HERITAGE OPEN DAYS: Free admission at Dean Heritage Centre this weekend
• Watch the 2009 Bourton-on-the-Water football match in the river Windrush
• Early Bird Offer. 20% off your Christmas party at Barcelo Cheltenham Park Hotel
• News from St Augustines Farm - New camera obscura
• Outstanding sales for The Times 2009 Cheltenham Literature Festival
• Free venue hire at 'The Boogie Lounge' featuring the 'Funkasino'!
• Earthworks by painter at the Dean Heritage Centre
• 21 years of Didmarton Bluegrass Festival 2009 at Kemble Airport
• Watch the new Birdland Park & Gardens video produced by Explore Gloucestershire
• Cheltenham's art gallery and museum wins a £500k grant
• Westonbirt Arboretum blazes an Autumn Trail
• Steam Along to Sudeley! Fantastic offer from two top Gloucestershire visitor attractions!
• A message from Explore Gloucestershire's media partners STAR 107.5FM
• Otter family makes a splash at WWT Slimbridge
• Gloucester Antiques Centre moving to Gloucester Quays Designer Outlet
• Priority booking, exclusive discounts, outstanding speakers at the 2009 Cheltenham Literature Festival
• Explore Gloucestershire Exclusive: Webcam installed at Birdland in the Cotswolds!
• Painted Violins in surprising places!
• WIN family tickets to the best visitor attractions in Gloucestershire + more!
• Watch programme of events video for the 2009 Cheltenham Music Festival
• SAVE 20% - Buy tickets to the 2009 Cotswold Show on-line now!
• Get ready for Summer school holidays in Gloucestershire 2009
• Watch the hilarious TITAN the Robot at The Brewery in Cheltenham
• PYO Strawberries in Gloucestershire at Primrose Vale & Over Farm
• PAMPERING WEEKEND! Barcelo Cheltenham Park Hotel: £325 per room including upgrade!
• RELAX & UNWIND! Barcelo Cheltenham Park Hotel from £89!
• 'Six of the Best' events in Gloucestershire with STAR 107.5FM
• GIRLIE GETAWAY! Barcelo Cheltenham Park Hotel: £89 per person including pampering session!
• The latest news on the 2009 Royal International Air Tattoo