A Howling Success!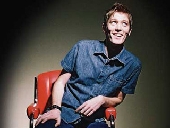 Cheltenham comedy lovers were treated to a fantastic opening show at Howlers Comedy Club on Saturday 17th February. Having not seen much comedy before, Explore Gloucestershire was not sure what to expect from this new venture based at The Wheatsheaf at Old Bath Road in Leckhampton, Cheltenham.

The Venue was just right for comedy with 130 people seated around candle lit tables. The sound and lighting was amazing with really good tunes playing whenever there was a break in the relentless flow of comedy.

Stuart Goldsmith compered the entire event and was a huge hit with the crowd from the outset. James Sherwood put in a good show, Michael Fabbri was outstanding, a definite headliner in the making. Then we were treated to a masterclass in stand-up from the wonderful Alun Cochrane. It's easy to see why he sells out his own show in Edinburgh every year and regularly appears on the box. Surprise success of the evening was the open-mic slot with local comedy wannabee Steve Walden delivering an impressive short set on only his second attempt at stand-up.

All in all a packed house saw five quality comics in a great setting for comedy and it is easy to see why this event sold out three weeks in advance. Howlers are offering something unique to Cheltenham, a weekend comedy club with a line-up to rival any top comedy event in the country. However, they will need your continued support to keep the shows coming.

If you want to be at Howlers' next show on Friday 16 March, featuring Mitch Benn, Ben Schofield, Nadeem Rangzeb and John Robins MC, then tickets are still available from the venue and Badlands Records at 11 St Georges Place. Credit card bookings can be made over the phone from Badlands on 01242 227724. Tickets are £10.

For further information.



OTHER NEWS
• A Howling Success!
• 'Lucky' to be alive!
• Refurbishment completed at The Chase
• Restoration & Repair of Berkeley Castle
• NEW Bus Service for Tewkesbury
• Snowy Web Cam
• Virtual Guide now available!
• Howlers Sell Out!
• Holst Museum Appeal