Winter wonderland at Westonbirt Arboretum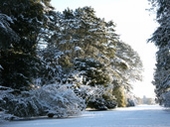 Westonbirt - The National Arboretum, which is managed by the Forestry Commission, has turned into a winter wonderland following a week of the heaviest snowfall much of Gloucestershire has seen in decades.

The snowfall has generated a photographer's paradise at The National Arboretum. The 600-acre site received up to six inches of snow in places, creating magical scenes and a tranquil environment.

Simon Toomer, Director of Westonbirt Arboretum commented:
"When there is snow fall at Westonbirt, the place has a breath taking beauty to it. The contours of the landscape were designed by Robert Holford in the 1850s to enable all the trees and plants to be shown at their best. The snow really emphasises the shapes and views which he intended."

Westonbirt develops seasonal trails, one in the Old Arboretum and one in Silk Wood, for visitors to explore the beautiful surroundings.

The conifers provide a sculptured backdrop to the deciduous trees and smaller shrubs. Unexpected colour can be found during the winter from flaming red-barked dogwood, scarlet willows or witch hazels, which bloom spidery yellow flowers mid winter.

Wildlife is also in abundance during winter at Westonbirt, as the resident bird species are joined by a variety of northern migrants such as fieldfare, redwing, siskins and bramblings. But don't forget to look out for the old favourite, the robin.
Admission to Westonbirt - The National Arboretum from 2 January to 28 February is:
Adults £6, Concessions £5 and Children £2 (under 5s go free).
For more information pick up a seasonal trail leaflet at the Great Oak Hall or visit the website.
*Image of Holdford Ride at Westonbirt Arboretum by Hugh Angus.
---
Explore Gloucestershire
11 January 2010

For further information.



OTHER NEWS
• 2010 Coopers Hill Cheese Rolling CANCELLED
• Coracle fun at WWT Slimbridge
• Curtain rises on Gloucester Quays Beauty Theatre
• No Gloucester Tall Ships Festival in 2010
• Air Tattoo offers something for the weekend
• Red Arrows return to their 'spiritual home' for two-day flying spectacular.
• 2010 Printed Guide out this month!
• SPECIAL Springtime Holiday Cruise Offers!!!
• New Herbal healing Garden at Sudeley
• The Wharf House bedrooms are finally READY!
• February 2010 Half Term Holiday Activities in Gloucestershire
• Tewkesbury Food & Drink Festival Programme Launched
• Full programme announced for the Barclays Cheltenham Jazz Festival 2010
• Air Tattoo Concerts set to take off
• Homecoming of sorts for rare duck at WWT Slimbridge
• New accomodation at The Wharf House at Over
• Cotswolds Connect - the social networking site for the Cotswolds
• Winner of the 2009 Explore Gloucestershire Photography Competition
• Air Tattoo offers 'Earlybirds' big savings - offer ends 28 Feb!
• Sleeping Beauty - another record breaking year
• Latest news on Cheltenham's Festivals for 2010
• Wildlife Photographer of the Year Exhibition
• Status Quo announce Westonbirt concert for the summer
• RIAT 2010 set for MIG-nificent display!
• Winter wonderland at Westonbirt Arboretum
• Tradestand bookings now open at the 2010 Cotswold Air Show
• Enter your winter snaps of Gloucestershire for your chance to win £250 Jessops vouchers!
• Watch the penguins in the snow at Birdland Park & Gardens