Homecoming of sorts for rare duck at WWT Slimbridge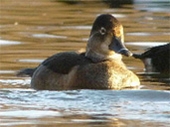 A RARE duck has arrived at WWT Slimbridge Wetland Centre just over half a century after its species was first discovered here by the late Lady Scott.

The first ever recording of a ring necked duck in Europe was made in 1955 by Lady Scott, who passed away in January.
Since then there has been a further three arrive at the wetland centre in Gloucestershire, including the female which was found on the South Lake on Sunday evening.
The duck is common in North America where it breeds and then each winter it migrates south sometimes as far as Central and South America.
But this one is believed to have lost its way in the strong south westerly winds seen in November.
As well as the link to the wife of the founder of the Wildfowl & Wetlands Trust Sir Peter Scott, the duck is also significant because it was the first species to conclusively demonstrate that birds did journey across the Atlantic.
Sceptics who disbelieved birds could fly such long distances were silenced when a ring necked duck which was ringed at Slimbridge in 1977 was later recovered in Greenland.
Martin McGill, senior reserve warden at WWT Slimbridge, said: "It is always exciting to see a rare visitor such as this one at Slimbridge and this time it has added significance for us here because of the link with Lady Scott.
"She made a remarkable discovery in 1955 – not many people can say they have discovered a first wildlife sighting for Europe.
"I identified it late on Sunday evening which will frustrate many keen birdwatchers who because of work commitments may not be free to visit until next weekend.
"It is in good health and could well stay for a while. The name can seem a little misleading as only the males have a ring around their necks and even this is only seen during their mating displays."
---
Explore Gloucestershire
2 February 2010

For further information.



OTHER NEWS
• 2010 Coopers Hill Cheese Rolling CANCELLED
• Coracle fun at WWT Slimbridge
• Curtain rises on Gloucester Quays Beauty Theatre
• No Gloucester Tall Ships Festival in 2010
• Air Tattoo offers something for the weekend
• Red Arrows return to their 'spiritual home' for two-day flying spectacular.
• 2010 Printed Guide out this month!
• SPECIAL Springtime Holiday Cruise Offers!!!
• New Herbal healing Garden at Sudeley
• The Wharf House bedrooms are finally READY!
• February 2010 Half Term Holiday Activities in Gloucestershire
• Tewkesbury Food & Drink Festival Programme Launched
• Full programme announced for the Barclays Cheltenham Jazz Festival 2010
• Air Tattoo Concerts set to take off
• Homecoming of sorts for rare duck at WWT Slimbridge
• New accomodation at The Wharf House at Over
• Cotswolds Connect - the social networking site for the Cotswolds
• Winner of the 2009 Explore Gloucestershire Photography Competition
• Air Tattoo offers 'Earlybirds' big savings - offer ends 28 Feb!
• Sleeping Beauty - another record breaking year
• Latest news on Cheltenham's Festivals for 2010
• Wildlife Photographer of the Year Exhibition
• Status Quo announce Westonbirt concert for the summer
• RIAT 2010 set for MIG-nificent display!
• Winter wonderland at Westonbirt Arboretum
• Tradestand bookings now open at the 2010 Cotswold Air Show
• Enter your winter snaps of Gloucestershire for your chance to win £250 Jessops vouchers!
• Watch the penguins in the snow at Birdland Park & Gardens