Coracle fun at WWT Slimbridge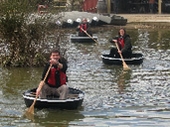 Could you keep afloat in this boat?
It certainly won't be a case of plain sailing for those adventurous enough to try a coracle at a Gloucestershire attraction.
Coracle boats have been around for thousands of years but are notoriously tricky to steer as the lightweight craft float on top of the water making them rather unstable.
Six of the small round one-man boats are now ready to set sail at WWT Slimbridge Wetland Centre, which is offering sessions upon its safari water trail.
Paul Daunter, Canoe Safari Operator, said: "They are not easy to control and can capsize, so we are advising people to bring a change of clothes!
"We are not aware of any other places where people can try to paddle a coracle, so it is a fairly unique experience which we are looking forward to offering.
People need to be aged 10 or above to take part in the Coracle Capers sessions. The sessions with an experienced instructor cost £20 and start at 9.30am. They will be run on 4 and 18 of April and 2, 16, 30 of May. To book your place or find out more about them call David Bell on 01453 891223.
---
Explore Gloucestershire
10 March 2010

For further information.



OTHER NEWS
• 2010 Coopers Hill Cheese Rolling CANCELLED
• Coracle fun at WWT Slimbridge
• Curtain rises on Gloucester Quays Beauty Theatre
• No Gloucester Tall Ships Festival in 2010
• Air Tattoo offers something for the weekend
• Red Arrows return to their 'spiritual home' for two-day flying spectacular.
• 2010 Printed Guide out this month!
• SPECIAL Springtime Holiday Cruise Offers!!!
• New Herbal healing Garden at Sudeley
• The Wharf House bedrooms are finally READY!
• February 2010 Half Term Holiday Activities in Gloucestershire
• Tewkesbury Food & Drink Festival Programme Launched
• Full programme announced for the Barclays Cheltenham Jazz Festival 2010
• Air Tattoo Concerts set to take off
• Homecoming of sorts for rare duck at WWT Slimbridge
• New accomodation at The Wharf House at Over
• Cotswolds Connect - the social networking site for the Cotswolds
• Winner of the 2009 Explore Gloucestershire Photography Competition
• Air Tattoo offers 'Earlybirds' big savings - offer ends 28 Feb!
• Sleeping Beauty - another record breaking year
• Latest news on Cheltenham's Festivals for 2010
• Wildlife Photographer of the Year Exhibition
• Status Quo announce Westonbirt concert for the summer
• RIAT 2010 set for MIG-nificent display!
• Winter wonderland at Westonbirt Arboretum
• Tradestand bookings now open at the 2010 Cotswold Air Show
• Enter your winter snaps of Gloucestershire for your chance to win £250 Jessops vouchers!
• Watch the penguins in the snow at Birdland Park & Gardens