Westonbirt Blooms for the Bank Holidays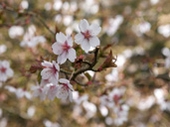 Signature flowers fill the National Arboretum with colour
Westonbirt - the National Arboretum is blooming. The Forestry Commission managed botanical tree garden is famous for its autumn colour, but spring is one of its best-kept and most glorious secrets
Creamy magnolias, glorious pink rhododendrons and beautifully scented azaleas of the Old Arboretum provide a vibrant contrast to sky blue wood anemones and pastel blossoms of the Japanese and Chinese flowering cherry trees of Silk Wood.
These spring bank holidays discover more about the collection by following one of the seasonal trails. Rise early enough on 2 May and you could join the dawn chorus walk to discover the symphony of birdsong hidden amongst the trees.
Throughout May and the summer months you can take part in various wildflower walks, led by specialist volunteers of the Friends of Westonbirt Arboretum.
There are also special trails for kids and play maps to explore the exciting hidden world of natural play areas, including dens, forts and some great trees for climbing. Download the play trails at www.forestry.gov.uk/westonbirt-families.
Now is an exciting time for the National Arboretum. Over the coming months, Westonbirt will see the results of a new method to reproduce its rarest and oldest rhododendrons.
Many of the plants, some over 100 years old and great natural treasures, are undergoing a new technique which tricks the plants into growing new roots from their branches.
Good results will mean the propagation team can gain new plants from rare hybrids in Westonbirt's famous collection. Many of these originated from the trials of the Victorian plant hunters who first contributed to the arboretum in the 19th Century.
For more details and times of the dawn chorus and wildflower walks, visit the events.
---
Explore Gloucestershire
22 April 2010

For further information.



OTHER NEWS
• "Gloucester Quays Football Free Zone Kicks Off!"
• A celebration of 200 years of steam at Dean Forest Railway
• Gloucester Folk Museum needs your choir
• Two new attractions at Birdland in Bourton-on-the-Water, Cotswolds
• New Arts & Crafts centre in Gloucester Docks
• COMPETITION! Win a luxury 'Spa Day' for two
• Whitsun School Holiday activities in Gloucestershire 2010
• GCHQ at Cheltenham Science Festival
• NEW OFFER! Free return visits to Nature in Art near Gloucester
• Sandford Parks Lido opens 1 May - Entry only 2p!!!
• NEW LOOK! Gloucestershire OFFERS, DISCOUNTS & PROMOTIONS
• Asparagus now ready at Primrose Vale & Over Farm Market
• Forest Model Village re-opens 1st May 2010
• First crane chicks hatch ready for release into wild at WWT Slimbridge
• Massive Karting event in Cheltenham for 2013 - plans released!
• Westonbirt Blooms for the Bank Holidays
• Army-style food experience at Tewkebury Food & Drink Festival
• Odd couple swim beak to beak at WWT Slimbridge
• Special post - show ghost tour following The Woman in Black
• Britain's largest vintage aircraft 'fly-in' returns to airport.
• Raptor set for Raptorus Air Tattoo return
• 2010 'Gloucestershire at its Best' Photography Competition
• Easter School Activities in Gloucestershire
• The Times Cheltenham Science Festival: Ticket sales off to an explosive start!
• English Touring Opera returns to the Everyman
• Duck release at Puddleduck Corner, WWT Slimbridge
• Spring down on St Augustines Farm