Asparagus now ready at Primrose Vale & Over Farm Market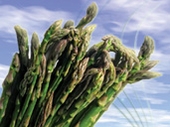 British asparagus has been hailed by leading chefs as being the best in the world and now it is now ready at Primrose Vale Farm Shop near Brockworth and at Over Farm Market near Gloucester.

British asparagus is classed as a 'Superfood' bursting with nutrients and has been a delicacy throughout the ages. It's low in calories, contains no fat or cholesterol and is very low in sodium. It's a good source of potassium, dietary fibre, rutin and folic acid (so it's good for expectant mums).
For the next eight weeks you can rest assured that your fresh asparagus will have no air miles attached to it, and that you'll be supporting local producers.
Seasonal fruit and vegetables are always on offer at Primrose Vale and Over Farm, as well as other local produce. At both farms you can also pick your own seasonal fruit, which always provides a great family trip out.
---
Explore Gloucestershire
28 April 2010

For further information.



OTHER NEWS
• "Gloucester Quays Football Free Zone Kicks Off!"
• A celebration of 200 years of steam at Dean Forest Railway
• Gloucester Folk Museum needs your choir
• Two new attractions at Birdland in Bourton-on-the-Water, Cotswolds
• New Arts & Crafts centre in Gloucester Docks
• COMPETITION! Win a luxury 'Spa Day' for two
• Whitsun School Holiday activities in Gloucestershire 2010
• GCHQ at Cheltenham Science Festival
• NEW OFFER! Free return visits to Nature in Art near Gloucester
• Sandford Parks Lido opens 1 May - Entry only 2p!!!
• NEW LOOK! Gloucestershire OFFERS, DISCOUNTS & PROMOTIONS
• Asparagus now ready at Primrose Vale & Over Farm Market
• Forest Model Village re-opens 1st May 2010
• First crane chicks hatch ready for release into wild at WWT Slimbridge
• Massive Karting event in Cheltenham for 2013 - plans released!
• Westonbirt Blooms for the Bank Holidays
• Army-style food experience at Tewkebury Food & Drink Festival
• Odd couple swim beak to beak at WWT Slimbridge
• Special post - show ghost tour following The Woman in Black
• Britain's largest vintage aircraft 'fly-in' returns to airport.
• Raptor set for Raptorus Air Tattoo return
• 2010 'Gloucestershire at its Best' Photography Competition
• Easter School Activities in Gloucestershire
• The Times Cheltenham Science Festival: Ticket sales off to an explosive start!
• English Touring Opera returns to the Everyman
• Duck release at Puddleduck Corner, WWT Slimbridge
• Spring down on St Augustines Farm