Jenner Museum set for £2m grant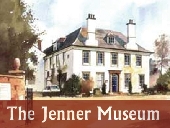 The Edward Jenner Museum is hoping for a huge injection into the museum from the Wellcome Trust.

The Wellcome Trust is an independent charity funding research to improve human and animal health. Established in 1936 and with an endowment of around £13 billion, it is the UK's largest non-governmental source of funds for biomedical research.

If the Museum's application to the Wellcome Trust for a £2 million grant is successful there will be major changes to the museum, including restoring the ground floor to authentic Georgian style, as it would have been when Dr Jenner lived there. "It would be marvellous to be able to celebrate the 260th anniversary of Edward Jenner's birth with a completely re-vamped museum in 2009" said Sarah Parker, Director of Berkeley's Edward Jenner Museum.


For further information.



OTHER NEWS
• Puzzlewood for sale
• 1 July - Smoke Free Gloucestershire
• A Purr-fect Magical Evening at CATS
• Open date for Cheltenham Lido
• WIN tickets to the Royal International Air Tattoo
• Prizes for June's Competition update
• Howlers SOLD OUT!
• Another school holiday - need somewhere to go?
• Peter Pan on Ice
• Updated high res maps available
• Healthy Smoothie Competition!
• Tickets to CATS to be won!!!
• Green Arrow on target for Cotswolds Festival of Steam
• Chase the Cheese and relax at The Chase!
• Forest walks with wheels
• Book your balloon flight with Explore
• Joint Ticket offered by Berkeley Attractions
• Explore is a year old!
• Ballyhoo & Fundays Party Competition!
• Howlers - a great night out!
• STOP PRESS: Win season tickets for GCCC Cricket
• Jenner Museum set for £2m grant
• Press Day for Kemble Air Day 2007
• What a result for Stagecoach!
• Forest Bluebells - no litter please!
• Sandford Lido Update
• NEW 2007 Colour Guide now out