Latest news from the 2010 Times Cheltenham Literature Festival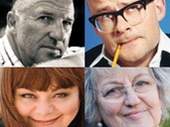 The Times Cheltenham Literature Festival returns in a celebration of award-winning writers, world-renowned thinkers and international star names. With more than 450 events over the ten day Festival, we are delighted to unveil an inspiring feast of Festival treats in the full programme…

The central theme for the 2010 Festival is Dreams and Nightmares which presents an opportunity to discover how the realm of dreams has influenced writers, thinkers and artists and how they expressed fears and hopes in their work. Once more the Festival welcomes a range of Guest Directors who have each programmed a dynamic series of events. Kevin McCloud explores architecture and design, Will Hutton investigates finance, China Miéville shares the best of future fiction, Mary Beard brings to life ancient Greece and Rome and Owen Sheers puts poetry centre-stage.

One aspect which makes Cheltenham unique is the fantastic Centaur at Cheltenham Racecourse – the country's biggest literature venue. Welcoming over 2,000 literary lovers for each event, the Centaur Series on the opening weekend promises some of the biggest names in popular culture and current affairs. The series starts with a sprinkling of comedy genius from double act Armstrong & Miller as they introduce the Armstrong and Miller Book. Current affairs come to the fore as The Times Debate considers if the dream of President Obama has survived, and Peter Mandelson discusses his time in and out of the government. On Sunday leading scientific thinker Stephen Hawking, influential feminist writer Germaine Greer and presenter and comedian Graham Norton all light up the Centaur stage. In a fantastic finale to the series Hollywood superstar Michael Caine joins the line-up to talk about his autobiography Elephant to Hollywood.

At its heart the Festival rejoices in the joy of books, the thrill of debate and the unique interaction between writer and reader and this year welcomes some true literary legends. Salman Rushdie joins the programme to discuss his life and work, highly acclaimed writer A S Byatt explores her novel The Children's Book, and Sophie's World author Jostein Gaardner comes to Cheltenham from Norway. Philip Pullman, Audrey Niffeneger, Roddy Doyle, Rose Tremain and Adrian Mole author Sue Townsend all feature.

A host of small screen stars will flock to Cheltenham this October - Stephen Fry, Kim Cattrall, Dawn French, Gok Wan, Fiona Phillips, Jo Brand, Chris Evans, Jenny Éclair, Jerry Hall, Kirstie Allsopp, Dom Joly and Harry Hill are just a few of the big names to spot! From wine and chocolate to baking and deserts, you can really get your teeth stuck into our series celebrating culinary genius. Queen of the kitchen Nigella Lawson, popular Italian chef Antonio Carluccio and Saturday Kitchen regular Olly Smith all offer tempting talks, whilst Rachel Allen is joined by Hardeep Singh Kohli as she demonstrates the secrets of Entertaining at Home. A truly tasty line-up!

Book It!, the festival for younger readers is at the heart of the programme with fun, exciting and surprising events every day of the Festival. Join everyone's favourite feline, Mog, for her birthday celebrations, meet best-selling author and Festival favourite Jacqueline Wilson or bump into Spot, Peter Rabbit and their friends as they spring to life! Budding young thespians can also discover the secrets of the theatre in a series of workshops with the Royal Shakespeare Company.
This is just a taster of the full, exciting programme – visit the website fordetails of over 450 inspiring events.

Tickets can be booked in person at Cheltenham Town Hall Box Office, by phone on 0844 576 7979, or online.
---
Explore Gloucestershire
1 September 2010

For further information.



OTHER NEWS
• The latest from The Times Cheltenham Literature Festival
• Twist & Pulse to Switch on Christmas Lights at Gloucester Quays
• New Season at Howlers Comedy Club
• Simon Pegg & Derren Brown coming to the 2010 Cheltenham Literature Festival
• First Pallas Cat kittens born at Cotswold Wildlife Park
• Unexplored Autumn Colour at Westonbirt
• Latest news from the 2010 Times Cheltenham Literature Festival
• Rare Woodland Bat found at Westonbirt Arboretum
• BBC History Festival at Gloucester Cathedral - 28 August 2010
• Tiny new arrivals at Cotswold Wildlife Park
• FREE entry for kids at Sudeley Castle near Winchcombe
• NEW! Special venue for childrens parties at Prinkash Bird & Deer Park
• REVIEW: The Dean Forest Railway
• New Cider, Perry & Ale Festival coming to Gloucester at the Wharf House
• NEW OFFER: £20 OFF a champagne balloon flight over the Cotswolds!
• A Circle of Friends at the Everyman Theatre
• Summer school holidays in Gloucestershire 2010
• REVIEW: James Morrison at Westonbirt
• Airshow pulls out all the stops
• Café Rene is the venue for the 2010 Gloucester Rhythm & Blues Festival
• Win Tickets to Toy Story 3 Regional Premiere at Cineworld Cheltenham!
• REVIEW: Blood Brothers at the Everyman Theatre
• Vulcan on its way to the Royal International Air Tattoo next weekend!
• RED BULL gives wings to Air Tattoo 2010
• Roman Credit Crunch and Medieval Poo
• A new chick in town! (well at Cotswold Wildlife Park there is)
• GLOUCESTERSHIRE TREASURE TRAILS are coming to a town near you this Summer!
• New Pony Rides at Puzzlewood
• Westonbirt Arboretum Live Music – Unique Location
• NEW OFFER! - 2 for 1 entry at Puzzlewood in the Forest of Dean
• NEW OFFER! Free Half-day Luxury Spa Package + a Free Session with ALL YOUR LIFE
• NEW EXCLUSIVE OFFER! Buy 2 Darklight Lasertag experiences and get 3rd FREE
• The Cotswolds's first ever giraffes!
• Young adventurers to explore Westonbirt for free this summer
• NEW EXCLUSIVE OFFER! Free game of Darklight Lasertag in Gloucester