Simon Pegg & Derren Brown coming to the 2010 Cheltenham Literature Festival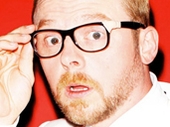 Hollywood actor Simon Pegg!
Having blasted onto the small screen with his now legendary sitcom Spaced, Simon Pegg's rise to nation's favourite son status has been mercurial, meteoric, megatronnic even! He joins us in a rare Festival appearance to discuss his brand-new autobiography, Nerd Do Well, a joyous tale of a home-grown superstar (from Gloucestershire!) and a local boy made good.
The Shaun of the Dead, Hot Fuzz and Star Trek star joins the Festival line-up for an appearance at Cheltenham Town Hall on 17th October at 7.45pm.
Tickets for this sure-to-sell-out event will go on sale on Monday 6 September.
---
Illusionist Extraordinaire Derren Brown!
Come with us on a magical mystery tour with conjuror and illusionist extraordinaire Derren Brown, as he presents his brilliant and hilarious Confessions of a Conjuror.
Find out how his weird and wonderful mind works as he discusses his obsession with magic and the amazing journey that is his life so far.
Tickets for this fantastic addition to the programme go on sale Today (Wednesday 8th September) at 10am.
---
Explore Gloucestershire
8 September 2010



For further information.



OTHER NEWS
• The latest from The Times Cheltenham Literature Festival
• Twist & Pulse to Switch on Christmas Lights at Gloucester Quays
• New Season at Howlers Comedy Club
• Simon Pegg & Derren Brown coming to the 2010 Cheltenham Literature Festival
• First Pallas Cat kittens born at Cotswold Wildlife Park
• Unexplored Autumn Colour at Westonbirt
• Latest news from the 2010 Times Cheltenham Literature Festival
• Rare Woodland Bat found at Westonbirt Arboretum
• BBC History Festival at Gloucester Cathedral - 28 August 2010
• Tiny new arrivals at Cotswold Wildlife Park
• FREE entry for kids at Sudeley Castle near Winchcombe
• NEW! Special venue for childrens parties at Prinkash Bird & Deer Park
• REVIEW: The Dean Forest Railway
• New Cider, Perry & Ale Festival coming to Gloucester at the Wharf House
• NEW OFFER: £20 OFF a champagne balloon flight over the Cotswolds!
• A Circle of Friends at the Everyman Theatre
• Summer school holidays in Gloucestershire 2010
• REVIEW: James Morrison at Westonbirt
• Airshow pulls out all the stops
• Café Rene is the venue for the 2010 Gloucester Rhythm & Blues Festival
• Win Tickets to Toy Story 3 Regional Premiere at Cineworld Cheltenham!
• REVIEW: Blood Brothers at the Everyman Theatre
• Vulcan on its way to the Royal International Air Tattoo next weekend!
• RED BULL gives wings to Air Tattoo 2010
• Roman Credit Crunch and Medieval Poo
• A new chick in town! (well at Cotswold Wildlife Park there is)
• GLOUCESTERSHIRE TREASURE TRAILS are coming to a town near you this Summer!
• New Pony Rides at Puzzlewood
• Westonbirt Arboretum Live Music – Unique Location
• NEW OFFER! - 2 for 1 entry at Puzzlewood in the Forest of Dean
• NEW OFFER! Free Half-day Luxury Spa Package + a Free Session with ALL YOUR LIFE
• NEW EXCLUSIVE OFFER! Buy 2 Darklight Lasertag experiences and get 3rd FREE
• The Cotswolds's first ever giraffes!
• Young adventurers to explore Westonbirt for free this summer
• NEW EXCLUSIVE OFFER! Free game of Darklight Lasertag in Gloucester