Tickets on sale now for Winter Wildlife Festival talks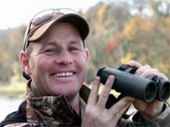 People can have the chance to spend the evening with Mike Dilger or Stephen Moss during the Winter Wildlife Festival.
The well-known faces are lined up as evening speakers at the Festival at Slimbridge Wetland Centre, which runs from November 29 to December 5.
Naturalist, writer and broadcaster Stephen's talk is titled This Birding Life – (almost) half a century of birdwatching experiences at home and abroad.
His talk on Friday, December 3, will be based on readings from his best-selling collection of columns for The Guardian.
He will take us on a trip down memory lane as he looks back to a more innocent age of boyhood birding experiences around the London suburbs, Minsmere, Stodmarsh and Dungeness; before embarking on a whistle-stop tour around the globe, from St Kilda to the Masai Mara, and Trinidad and Tobago to Antarctica.
On Saturday December 4 the BBC's One Show presenter Mike will deliver an entertaining talk on the Trials and Tribulations of being a wildlife presenter.
Although for many working in the field would be a dream come true, it is not without its challenges, which Mike will describe in this humorous talk.
Both events start at 7.30pm.
Tickets cost £15, which includes a free drink.
Please call 01453 891223 to buy a ticket or email eleanor.wise@wwt.org.uk
---
Explore Gloucestershire
18 October 2010

For further information.



OTHER NEWS
• Canine capers at Westonbirt Arboretum
• Christmas Celebrations Afloat – So popular more dates added!
• NEW OFFER: 10% off at Taurus Crafts - Ideal for Christmas presents!
• Gloucestershire at its Best Photography Competition - Last chance to enter
• The Times Cheltenham Literature Festival crowned Tourism Event of the Year!
• The Tivoli pub in Cheltenham to have new lease of life after closure
• £15 Menu at The Wharf House - Last chance!
• Tourism Award for Treasure Trails
• SPECIAL CHRISTMAS IN GLOUCESTERSHIRE SECTION - now live!!!
• "Twist & Pulse to Switch on Gloucester Quays Christmas Lights This Thursday!"
• NEW OFFER: Free weeks pass at Barcelo Health & Leisure Club in Cheltenham
• Co-Opera Co. bring two of the most popular operas to the Everyman next week
• Gloucester's Zombie Thriller Video at Café René
• Follow Explore Gloucestershire on Twitter
• REVIEW: The Haunting at The Everyman Theatre in Cheltenham
• Swan Lake – For 3 Nights Only!
• Green Father Christmas to launch Westonbirt's Festive Fun
• Conservators protect mosaics from builders at Chedworth Roman Villa
• SPECIAL OFFER! 33% OFF Business Promotion with Explore Gloucestershire iPhone APP & Website!
• STOP PRESS: The First iPhone APP for Gloucestershire!
• Double value parking at two major town centre car parks throughout December
• Tickets on sale now for Winter Wildlife Festival talks
• Explosive Entertainment at The Everyman Theatre: REVIEW
• Continental market returns to Cheltenham
• Half Term & Halloween in Gloucestershire
• Birthday Celebrations with tea and cake at Gloucester Folk Museum
• The All Your Life Celebrity Charity Ball 'Party Only' Tickets now available for £25
• NEW OFFER! FREE Makeover and Photoshoot with ALL YOUR LIFE
• Congratulations to The Wharf House Restaurant
• NEW OFFER! 4 Fabulous money saving vouchers at Café René in Gloucester
• Calypso Comes to Cheltenham!
• When do you think the first Bewick's will arrive?
• 10% Off and Park for Free 6pm-8pm at Gloucester Quays Designer Outlet
• Winter Owl Evenings return to The International Centre for Birds of Prey Centre at Newent
• A message from Cafe Rene: "Calling all Zombies!!"