STOP PRESS: The First iPhone APP for Gloucestershire!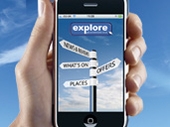 A major boost for tourism in Gloucestershire!
The first APP for the tourism, leisure and recreation industry for Gloucestershire is now available for locals and visitors to the county.
Explore Gloucestershire have pioneered the way to bring yet another exciting way to explore our great county using the latest technology. After months of development it's now free to download from the App Store for iPhone, iPad and iPod Touch users.
Karen Davis from Explore Gloucestershire said, "The success and ease of use of the iPhone has been the deciding factor in developing the new APP, and while we do understand that not everyone has one, we will be customising for the android smart phone market in the near future".

She went on to say, "APP's are the latest technological innovation and with so many different types on offer, our research showed there wasn't an APP available to promote what Gloucestershire has to offer - so we decided to fill this void in the market place. The APP's content is taken from our website www.exploregloucestershire.co.uk and offers a comprehensive list of what's on in the county, where to stay, eat and drink, as well as a vast list of visitor attractions. There's also an ever-growing Offers section, which has recently been introduced to the website and included on the APP.
One of the best features about our APP is that it is fully GPS enabled, thus offering an added extra for location tracking and directions, so for example, if someone is staying at a hotel in Cirencester they can use the APP to find nearby events, activities, entertainment and maybe an offer too."
The very easy-to-use APP is divided into five sections for Gloucester, Cheltenham, the Cotswolds, Forest of Dean and the Severn Vale. A filtering system enables users to fine tune searches on the APP and Explore Gloucestershire have said that an even more advanced filter search is imminent.
To get your FREE Explore Gloucestershire App go to the APP Store (or click link below)
Enjoy the APP - the First of its kind for Gloucestershire!
---
Explore Gloucestershire
3 November 2010

For further information.



OTHER NEWS
• Canine capers at Westonbirt Arboretum
• Christmas Celebrations Afloat – So popular more dates added!
• NEW OFFER: 10% off at Taurus Crafts - Ideal for Christmas presents!
• Gloucestershire at its Best Photography Competition - Last chance to enter
• The Times Cheltenham Literature Festival crowned Tourism Event of the Year!
• The Tivoli pub in Cheltenham to have new lease of life after closure
• £15 Menu at The Wharf House - Last chance!
• Tourism Award for Treasure Trails
• SPECIAL CHRISTMAS IN GLOUCESTERSHIRE SECTION - now live!!!
• "Twist & Pulse to Switch on Gloucester Quays Christmas Lights This Thursday!"
• NEW OFFER: Free weeks pass at Barcelo Health & Leisure Club in Cheltenham
• Co-Opera Co. bring two of the most popular operas to the Everyman next week
• Gloucester's Zombie Thriller Video at Café René
• Follow Explore Gloucestershire on Twitter
• REVIEW: The Haunting at The Everyman Theatre in Cheltenham
• Swan Lake – For 3 Nights Only!
• Green Father Christmas to launch Westonbirt's Festive Fun
• Conservators protect mosaics from builders at Chedworth Roman Villa
• SPECIAL OFFER! 33% OFF Business Promotion with Explore Gloucestershire iPhone APP & Website!
• STOP PRESS: The First iPhone APP for Gloucestershire!
• Double value parking at two major town centre car parks throughout December
• Tickets on sale now for Winter Wildlife Festival talks
• Explosive Entertainment at The Everyman Theatre: REVIEW
• Continental market returns to Cheltenham
• Half Term & Halloween in Gloucestershire
• Birthday Celebrations with tea and cake at Gloucester Folk Museum
• The All Your Life Celebrity Charity Ball 'Party Only' Tickets now available for £25
• NEW OFFER! FREE Makeover and Photoshoot with ALL YOUR LIFE
• Congratulations to The Wharf House Restaurant
• NEW OFFER! 4 Fabulous money saving vouchers at Café René in Gloucester
• Calypso Comes to Cheltenham!
• When do you think the first Bewick's will arrive?
• 10% Off and Park for Free 6pm-8pm at Gloucester Quays Designer Outlet
• Winter Owl Evenings return to The International Centre for Birds of Prey Centre at Newent
• A message from Cafe Rene: "Calling all Zombies!!"