Green Father Christmas to launch Westonbirt's Festive Fun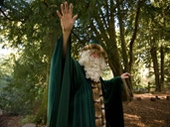 Westonbirt Arboretum's Enchanted Christmas launches Friday 26 November
A special green Father Christmas and his festive friends will switch on the lights of the illuminated trail at this year's Enchanted Christmas event at Westonbirt Arboretum.
On Friday 26 November, from 4.45pm, Father Christmas will launch the event dressed in his traditional green costume to celebrate Westonbirt's trees. He will be accompanied by real reindeer and two elves - the lucky winners of a poster competition run by the Westonbirt Magazine.
Westonbirt, The National Arboretum, which is managed by the Forestry Commission, will become a wonderland of festive lights during the Enchanted Christmas. The event takes place on Friday, Saturday and Sunday evenings from 26 November to 19 December.
Alongside carols and festive treats of mulled wine and roast chestnuts, visitors will be able to take the illuminated trail around the Old Arboretum. The trail takes in some of the gems of Westonbirt's collection, spectacularly highlighting the beauty and shape of the trees.
After the big switch-on, Father Christmas will meet and greet youngsters. He'll also be at every other evening throughout the four week event.
Julie McKellar, events coordinator, commented:
"Westonbirt is world renowned for its fantastic tree collection. This year Father Christmas will wear his original green colour to celebrate the abundance of trees and nature found at our National Arboretum."
Westonbirt's Enchanted Christmas takes place from 5 to 8.30pm, with the last entry at 7.15pm. The illuminated trail is accessible for wheelchairs. Manual wheelchairs or mobility scooters can be booked in advance by calling 01666 881218.
Admission is £8 for adults, £7 for concessions and children are £4. Discounted entry is available for pre-booked groups over 10 people and Friends of Westonbirt Arboretum members receive half price entry on Fridays.
Advance tickets can be purchased online at www.forestry.gov.uk/westonbirt-events-news .
Other Westonbirt treats to get you in the festive spirit...
Visit the Westonbirt Plant Centre to buy a sustainably sourced real Christmas tree, on sale from 26 November between 10am and 5pm.
There will be Christmas market stalls on site, or pop into the Forest Shop, which will open until 8.30pm during the event with a host of great Christmas gift ideas.
Make it an extra special evening with a Christmas carvery at Westonbirt's Maples restaurant. Open from 5.30 to 7.30pm during the Enchanted Christmas and serves a two-course traditional dinner. The cost is £15.95 for adults or £8.95 for children (vegetarian option available). Booking is essential, so call 01666 880558 or email maplesrestaurant@btconnect.com
Children's Reindeer Trail: Discover the reasons behind many of our winter traditions and help Father Christmas find his missing reindeer. Available from the Great Oak Hall from 1 to 24 December and free after admission
Christmas Traditions family event: Join in our tree celebrations and create your own Christmas crafts to take home. Saturday 4 to Sunday 5 December, 11am to 4pm and free after admission.
---
Explore Gloucestershire
4 November 2010

For further information.



OTHER NEWS
• Canine capers at Westonbirt Arboretum
• Christmas Celebrations Afloat – So popular more dates added!
• NEW OFFER: 10% off at Taurus Crafts - Ideal for Christmas presents!
• Gloucestershire at its Best Photography Competition - Last chance to enter
• The Times Cheltenham Literature Festival crowned Tourism Event of the Year!
• The Tivoli pub in Cheltenham to have new lease of life after closure
• £15 Menu at The Wharf House - Last chance!
• Tourism Award for Treasure Trails
• SPECIAL CHRISTMAS IN GLOUCESTERSHIRE SECTION - now live!!!
• "Twist & Pulse to Switch on Gloucester Quays Christmas Lights This Thursday!"
• NEW OFFER: Free weeks pass at Barcelo Health & Leisure Club in Cheltenham
• Co-Opera Co. bring two of the most popular operas to the Everyman next week
• Gloucester's Zombie Thriller Video at Café René
• Follow Explore Gloucestershire on Twitter
• REVIEW: The Haunting at The Everyman Theatre in Cheltenham
• Swan Lake – For 3 Nights Only!
• Green Father Christmas to launch Westonbirt's Festive Fun
• Conservators protect mosaics from builders at Chedworth Roman Villa
• SPECIAL OFFER! 33% OFF Business Promotion with Explore Gloucestershire iPhone APP & Website!
• STOP PRESS: The First iPhone APP for Gloucestershire!
• Double value parking at two major town centre car parks throughout December
• Tickets on sale now for Winter Wildlife Festival talks
• Explosive Entertainment at The Everyman Theatre: REVIEW
• Continental market returns to Cheltenham
• Half Term & Halloween in Gloucestershire
• Birthday Celebrations with tea and cake at Gloucester Folk Museum
• The All Your Life Celebrity Charity Ball 'Party Only' Tickets now available for £25
• NEW OFFER! FREE Makeover and Photoshoot with ALL YOUR LIFE
• Congratulations to The Wharf House Restaurant
• NEW OFFER! 4 Fabulous money saving vouchers at Café René in Gloucester
• Calypso Comes to Cheltenham!
• When do you think the first Bewick's will arrive?
• 10% Off and Park for Free 6pm-8pm at Gloucester Quays Designer Outlet
• Winter Owl Evenings return to The International Centre for Birds of Prey Centre at Newent
• A message from Cafe Rene: "Calling all Zombies!!"