Co-Opera Co. bring two of the most popular operas to the Everyman next week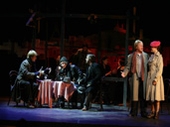 Mozart's The Marriage of Figaro has often been referred to as one of the three perfect popular operas.
Its heady mix of comedy and pathos, lust and love, betrayal and social intrigue is every bit as powerful, relevant and sexy today, as it was in the 18th century, when it took the opera world by storm. And with its soaring melodies and well-known arias, The Marriage of Figaro is a feast for the senses.
Conducted by Garsington Opera's Head of Music, Robin Newton and directed by Jacopo Spirei, this is a stunning production, featuring Jeremy Sams' witty, English translation.
La Boheme, arguably Puccini's greatest masterpiece, is magnificent. A celebration of all things youthful, Puccini's glorious melodies echo the innocence and petulance, the passion and despair, the optimism and loss which are the potent ingredients of this classic tale of love. Conducted by English National Opera's Stephen Higgins and directed by William Relton, this is a stirring and emotional tragedy, sung in Italian.
Co-Opera Co presents:
La Boheme – Friday 19 November, 7.30pm
The Marriage of Figaro – Saturday 20 November, 7.30pm
Tickets: £16 - £22
Where: Everyman Theatre, Regent Street, Cheltenham, GL50 1HQ
---
Explore Gloucestershire
11 November 2010 For further information.



OTHER NEWS
• Canine capers at Westonbirt Arboretum
• Christmas Celebrations Afloat – So popular more dates added!
• NEW OFFER: 10% off at Taurus Crafts - Ideal for Christmas presents!
• Gloucestershire at its Best Photography Competition - Last chance to enter
• The Times Cheltenham Literature Festival crowned Tourism Event of the Year!
• The Tivoli pub in Cheltenham to have new lease of life after closure
• £15 Menu at The Wharf House - Last chance!
• Tourism Award for Treasure Trails
• SPECIAL CHRISTMAS IN GLOUCESTERSHIRE SECTION - now live!!!
• "Twist & Pulse to Switch on Gloucester Quays Christmas Lights This Thursday!"
• NEW OFFER: Free weeks pass at Barcelo Health & Leisure Club in Cheltenham
• Co-Opera Co. bring two of the most popular operas to the Everyman next week
• Gloucester's Zombie Thriller Video at Café René
• Follow Explore Gloucestershire on Twitter
• REVIEW: The Haunting at The Everyman Theatre in Cheltenham
• Swan Lake – For 3 Nights Only!
• Green Father Christmas to launch Westonbirt's Festive Fun
• Conservators protect mosaics from builders at Chedworth Roman Villa
• SPECIAL OFFER! 33% OFF Business Promotion with Explore Gloucestershire iPhone APP & Website!
• STOP PRESS: The First iPhone APP for Gloucestershire!
• Double value parking at two major town centre car parks throughout December
• Tickets on sale now for Winter Wildlife Festival talks
• Explosive Entertainment at The Everyman Theatre: REVIEW
• Continental market returns to Cheltenham
• Half Term & Halloween in Gloucestershire
• Birthday Celebrations with tea and cake at Gloucester Folk Museum
• The All Your Life Celebrity Charity Ball 'Party Only' Tickets now available for £25
• NEW OFFER! FREE Makeover and Photoshoot with ALL YOUR LIFE
• Congratulations to The Wharf House Restaurant
• NEW OFFER! 4 Fabulous money saving vouchers at Café René in Gloucester
• Calypso Comes to Cheltenham!
• When do you think the first Bewick's will arrive?
• 10% Off and Park for Free 6pm-8pm at Gloucester Quays Designer Outlet
• Winter Owl Evenings return to The International Centre for Birds of Prey Centre at Newent
• A message from Cafe Rene: "Calling all Zombies!!"