NEW OFFER: Free weeks pass at Barcelo Health & Leisure Club in Cheltenham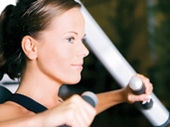 Explore Gloucestershire have teamed up with Barcelo Health & Leisure Club in Cheltenham to offer a fabulous opportunity to experience their fantastic facilities.
Not 1, 2, 3, 4, 5 or 6 days, but a whole week FREE pass to the Cheltenham Barceló Health & Leisure Club which is located on the ground floor of Barceló Cheltenham Park Hotel. It combines the latest in gym technology with a friendly, expert service, it's more than just a workout, it's about enjoying exercise and "Feeling the Benefit."
Download the voucher now - it's valid until the end of January so there's plenty of time to experience this luxurious offer.
---
Explore Gloucestershire
12 November 2010

For further information.



OTHER NEWS
• Canine capers at Westonbirt Arboretum
• Christmas Celebrations Afloat – So popular more dates added!
• NEW OFFER: 10% off at Taurus Crafts - Ideal for Christmas presents!
• Gloucestershire at its Best Photography Competition - Last chance to enter
• The Times Cheltenham Literature Festival crowned Tourism Event of the Year!
• The Tivoli pub in Cheltenham to have new lease of life after closure
• £15 Menu at The Wharf House - Last chance!
• Tourism Award for Treasure Trails
• SPECIAL CHRISTMAS IN GLOUCESTERSHIRE SECTION - now live!!!
• "Twist & Pulse to Switch on Gloucester Quays Christmas Lights This Thursday!"
• NEW OFFER: Free weeks pass at Barcelo Health & Leisure Club in Cheltenham
• Co-Opera Co. bring two of the most popular operas to the Everyman next week
• Gloucester's Zombie Thriller Video at Café René
• Follow Explore Gloucestershire on Twitter
• REVIEW: The Haunting at The Everyman Theatre in Cheltenham
• Swan Lake – For 3 Nights Only!
• Green Father Christmas to launch Westonbirt's Festive Fun
• Conservators protect mosaics from builders at Chedworth Roman Villa
• SPECIAL OFFER! 33% OFF Business Promotion with Explore Gloucestershire iPhone APP & Website!
• STOP PRESS: The First iPhone APP for Gloucestershire!
• Double value parking at two major town centre car parks throughout December
• Tickets on sale now for Winter Wildlife Festival talks
• Explosive Entertainment at The Everyman Theatre: REVIEW
• Continental market returns to Cheltenham
• Half Term & Halloween in Gloucestershire
• Birthday Celebrations with tea and cake at Gloucester Folk Museum
• The All Your Life Celebrity Charity Ball 'Party Only' Tickets now available for £25
• NEW OFFER! FREE Makeover and Photoshoot with ALL YOUR LIFE
• Congratulations to The Wharf House Restaurant
• NEW OFFER! 4 Fabulous money saving vouchers at Café René in Gloucester
• Calypso Comes to Cheltenham!
• When do you think the first Bewick's will arrive?
• 10% Off and Park for Free 6pm-8pm at Gloucester Quays Designer Outlet
• Winter Owl Evenings return to The International Centre for Birds of Prey Centre at Newent
• A message from Cafe Rene: "Calling all Zombies!!"