LATEST: A special Christmas at Lodge Park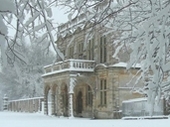 If you would like to have a truly special Christmas experience this year, the 17th-century Lodge Park near Northleach has something unique for you. Decorated with traditional greenery, this magnificent building will host a wonderful concert of Christmas Music, performed on historical instruments by the Galliarda Ensemble.
'Lodge Park is a perfect place for enjoying a historical music concert: freshly dressed up for Christmas, the Lodge welcomes you with festive smells of traditional greenery and candles and the 15 foot tall Christmas tree. The Galliarda Ensemble take you back in time, as they play heavenly tunes on instruments one would see pictured in paintings with angels and cherubs… Everyone gets a chance to look around the Lodge, too, and enjoys mulled wine and mince pies – it is a really lovely festive atmosphere,' says Sigute Barniskyte, acting Visitor Services Manager for the National Trust at Gloucestershire Countryside.
So get into the festive spirit by listening to beautiful tunes, and have a glass of mulled wine and mince pies at Lodge Park, on Saturday evening, 4th December at 7 o'clock. This could be a truly memorable Christmas gift for your loved ones, too.
Galliarda, 'Merry Wassail': Christmas music on historical instruments at Lodge Park, near Aldsworth, Cheltenham, GL54 3PP.
Tickets price £18, including mulled wine and mince pies. Please book on 01451 844130.
Programme to include Spanish carols, Iberian Christmas Folk Songs, a Peruvian Christmas cantata, and Christmas pieces by Corelli, Telemann and Handel.
Sara Stowe Soprano
Wendy Hancock Recorder, Baroque Flute and Viol
Richard MacKenzie Baroque guitar and Theorbo
Ian Gammie Viola da Gamba
Tickets are £18 and include refreshments in the interval.
Bookings on 01451 844130.
Father Christmas will return to the Lodge again through the fireplace in the Great Room on Saturday 11 and Sunday 12 December. Everyone who completes a Christmas trail will be rewarded with a prize! The halls will be decorated; mulled wine and mince pies laid out for everyone and the gift shop will be open for Christmas sales. Children can also make Christmas decorations to take home.
Lodge Park will open Saturday 11 & Sunday 12 December, 11am-4pm.
Normal admission applies, NT members free entry. £2/trail with a prize.
---
Explore Gloucestershire
29 November 2010 For further information.



OTHER NEWS
• Cancelled Christmas Day Swim at Sandford Parks Lido
• Latest update on council services in Cheltenham
• Parking enforcement in Cheltenham
• William Moseley - from Narnia to Prinknash Winter Wonderland this Sunday
• The Magic of Westonbirt this Christmas
• Get on the bus this Christmas! Stagecoach West timetables for Gloucestershire
• 2 Gloucestershire attractions voted in the top 10 attractions to visit in rural England this Christmas
• RIAT 2011: Air Tattoo earlybird tickets go 'cheep'
• Erasure to perform at Westonbirt in June 2011
• Regent Arcade Christmas: Opening Times & Special Car Parking Prices
• Schools Closed in Gloucestershire due to Snow
• News from Cotswolds Connect
• The Explore Gloucestershire iPhone APP: over 500 downloads already!
• LATEST: A special Christmas at Lodge Park
• Simple Minds announce Westonbirt Concert for June 2011
• REVIEW: Cinderella at The Everyman Theatre, Cheltenham