REVIEW: Cinderella at The Everyman Theatre, Cheltenham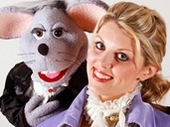 It's really starting to feel like Christmas is nearly here, following our visit to the opening night of the panto - Cinderella at the Everyman Theatre in Cheltenham.
Cinderella is the classic fairytale about a downtrodden and deprived girl, treated so awfully by her two ugly step-sisters. Her path to true love and happiness with the dashing Prince, is helped along by her fairy godmother, her friend Buttons and a few more colourful characters too.
Not wishing to give too much away, we can assure you this is terrific fun, family viewing with elements to make everyone chuckle. It includes all the traditional pantomime ingredients of slap-stick humour, double-entendres, music and dance.
Buttons was hilarious and the addition of 'Theo the Mouse' was fantastic. Theo, a cheeky little puppet, was particularly well received by younger members of the audience. Once again the costumes and scenery were visually stunning, with the ugly sisters coming up trumps with their garish takes on fashion. We particularly enjoyed the pantomime interpretation of a certain Take That track!
The panto is a family tradition that you never grow out of - you just find yourself laughing more at the bits you never quite understood when you were a child. So, don't miss out this year. We have been told that ticket sales are already in excess of 30,000, so with this in mind don't be disappointed and leave it until the last minute - book your tickets now!
Cinderella runs until Saturday 8 January 2011 at The Everyman Theatre, Cheltenham with tickets priced from £10.
---
Explore Gloucestershire
29 November 2010

For further information.



OTHER NEWS
• Cancelled Christmas Day Swim at Sandford Parks Lido
• Latest update on council services in Cheltenham
• Parking enforcement in Cheltenham
• William Moseley - from Narnia to Prinknash Winter Wonderland this Sunday
• The Magic of Westonbirt this Christmas
• Get on the bus this Christmas! Stagecoach West timetables for Gloucestershire
• 2 Gloucestershire attractions voted in the top 10 attractions to visit in rural England this Christmas
• RIAT 2011: Air Tattoo earlybird tickets go 'cheep'
• Erasure to perform at Westonbirt in June 2011
• Regent Arcade Christmas: Opening Times & Special Car Parking Prices
• Schools Closed in Gloucestershire due to Snow
• News from Cotswolds Connect
• The Explore Gloucestershire iPhone APP: over 500 downloads already!
• LATEST: A special Christmas at Lodge Park
• Simple Minds announce Westonbirt Concert for June 2011
• REVIEW: Cinderella at The Everyman Theatre, Cheltenham