Erasure to perform at Westonbirt in June 2011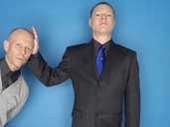 After more than four years away from recording and live performance, Erasure have announced the Total Pop! tour, a series of dates for summer 2011 playing their hits as part of Forestry Commission Live Music, where acts perform in spectacular woodland locations across the country.
The Total Pop! tour will coincide with the release of Erasure's brand new album, planned for release in summer 2011.
Commenting on the tour, Erasure's Andy Bell said, "This wonderful opportunity to perform for the fans in such a unique backdrop feels like just the right way to jump back in to Erasure after a four year break. We're excited to be playing in the woods and really hope it doesn't rain."
Erasure also announce the release of a brand new version of their top 5 single, A Little Respect - HMI Redux, out today. Proceeds from the track will be donated to The Hetrick-Martin Institute, the home of the Harvey Milk High School, in New York, and the True Colors Fund. The Hetrick-Martin Institute, the nation's oldest and largest LGBTQ youth service organization, provides a safe and supportive environment to all young people - regardless of their sexual orientation or gender identity so that they can achieve their full potential.
Formed 25 years ago, the award-winning duo of Vince Clarke and Andy Bell unleashed on the nation a succession of both influential and chart-topping pop anthems of the '80s, '90s through to today. Songs like 'A Little Respect', 'Sometimes', 'Victim Of Love', 'Ship Of Fools', 'Blue Savannah', 'Star', 'Chains Of Love', 'The Circus', 'Who Needs Love (Like That)', 'Love To Hate You', 'Drama!', "Always" and "Breathe," ensured a formidable presence on the singles charts complemented by five consecutive No 1 albums including 'The Innocents', 'Wild!', 'Chorus' and the beginning of the worldwide Abba revival 'Abba-esque'.
From Lady Gaga to La Roux, the futurist, electronic sound Erasure championed is more relevant today than ever, and once again re-charging the global music scene. Clarke's swirling synths and Bell's angelic vocals offer both a contrast and complement to the ancient and bucolic forests in which they will perform. These shows will provide a magical environment for Erasure to deliver their fantastic, phantasmagoric entertainment.
Erasure will be performing on Saturday 18 June Westonbirt Arboretum, Nr Tetbury, Gloucestershire.

Tickets cost £34.50 (subject to booking fee) and go on sale at 9am this Friday 10 December 2010 from the Forestry Commission box office tel. 03000 680400, or buy online at www.forestry.gov.uk/music.
---
Explore Gloucestershire
6 December 2010

For further information.



OTHER NEWS
• Cancelled Christmas Day Swim at Sandford Parks Lido
• Latest update on council services in Cheltenham
• Parking enforcement in Cheltenham
• William Moseley - from Narnia to Prinknash Winter Wonderland this Sunday
• The Magic of Westonbirt this Christmas
• Get on the bus this Christmas! Stagecoach West timetables for Gloucestershire
• 2 Gloucestershire attractions voted in the top 10 attractions to visit in rural England this Christmas
• RIAT 2011: Air Tattoo earlybird tickets go 'cheep'
• Erasure to perform at Westonbirt in June 2011
• Regent Arcade Christmas: Opening Times & Special Car Parking Prices
• Schools Closed in Gloucestershire due to Snow
• News from Cotswolds Connect
• The Explore Gloucestershire iPhone APP: over 500 downloads already!
• LATEST: A special Christmas at Lodge Park
• Simple Minds announce Westonbirt Concert for June 2011
• REVIEW: Cinderella at The Everyman Theatre, Cheltenham