Pam Ayres lends support to Everyman Restoration Project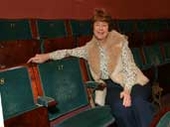 Local celebrity lends a hand!
Local celebrity Pam Ayres, who is Patron of the Everyman Theatre Association, has leant her support to the Cheltenham theatre's restoration project. She and husband Dudley Russell have sponsored a seat as part of the Everyman's fundraising campaign.
On a visit to the Everyman last month to attend their hit panto Cinderella, Pam Ayres was happy to pose for a picture in the auditorium, which is all set for a major refurbishment this Summer.
Said Pam: "I have enjoyed some wonderful evenings at the Everyman - both on stage and in the audience – and it is marvellous to see that theTheatre is going to get a much needed refurbishment. This will ensure that the Everyman continues to provide a comfortable and enjoyable experience for many more years to come. I urge as many people as possible to Sponsor a Seat – either in their own name or perhaps for a family member – to enable the Everyman to reach its fund-raising target."
The Everyman's restoration scheme is costing £3 million and work will be completed in time for the theatre's 120th anniversary in October this year. £200,000 still needs to be raised to carry out all the restoration plans, which will restore the auditorium to its former glory and includes new and more comfortable seating, carpeting, re-instating the theatre boxes, as well as improving and updating the foyer and bar areas. Theatre lovers can sponsor one of the new seats for £250 or give a donation. For further information about the campaign and ways in which you can help, contact Sally-Ann Rhodes on 01242 695574.
---
Explore Gloucestershire
6 January 2011

For further information.



OTHER NEWS
• Cheese Rolling Committee takes residents concerns on board
• Winner of 2010 Explore Gloucestershire Photography Competition
• Westlife announce Westonbirt Concert date
• Sudeley Castle opens its doors on the family history for new season
• Spitfires return to the air Tattoo - 40 years on
• Cold weather failed to stop rare geese laying on time at WWWT Slimbridge
• 20% off tickets to the Moscow State Circus in Cheltenham
• Bryan Ferry announces Westonbirt concert date
• Titus arrives at Prinknash Bird & Deer Park
• Restaurant Review: The Parrot Bar & Grill in Cheltenham review
• Reds top Air Tattoo Aerobatics team list at Fairford 2011
• SPECIAL OFFER for businesses! Going for Gold - Save £100
• Jazz Festival Line-up revealed
• Double the Fun for Gloucestershire Treasure Hunters
• New Out of the Hat exhibition calls for public input
• Last chance for RIAT Air Tattoo earlybird tickets
• Hallmark Hotel Gloucester's transformation continues
• Texas announce Westonbirt concert date
• Hollywood A-lister Stephanie Beacham to star as Maria Callas at Everyman Theatre
• Love is in the Air at Gloucester Docks
• Amazing wildlife photographs on display at Nature in Art
• The best kept secret in the Cotswolds this Spring at Westonbirt
• The BIG animal count at Cotswold Wildlife Park
• The Gruffalo's Child - extra performance due to popular demand
• Fabulous offers at The Brewery in Cheltenham
• Explore Gloucestershire iPhone APP - over 1000 downloads!
• Coming Soon to Gloucester Folk Museum
• Elkie Brooks concert at Everyman Theatre rescheduled
• Something very fishy going on in Cheltenham!
• Gloucester Folk Museum Presents BBC High Street History Interactive Event
• The Second Tortworth Court Antiques and Fine Art Fair
• Pam Ayres lends support to Everyman Restoration Project
• NEW OFFER: Get in shape for 2011 with a FREE pass to Barcelo!
• NEW Cheltenham Festival! A Cheltenham Comedy Festival planned for November