The Second Tortworth Court Antiques and Fine Art Fair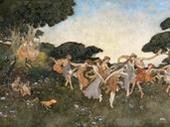 Now a firm date on the fairs circuit, the highly anticipated Tortworth Court Antiques and Fine Art Fair returns for its second year from Friday 25 to Sunday 27 February 2011.

The Tortworth Court Four Pillars Hotel is a magnificent Cotswolds country house in an elegant setting offering exhibitors the perfect relaxed and informal environment to sell and for the visitors to buy and browse.

This boutique-style fair brings together 25 dealers from around the country, all predominantly members of the British Antique Dealers" Association and LAPADA The Association of Art & Antiques Dealers, selling furniture, paintings, sculpture, jewellery, objets d"art and lots more.
An interesting painting on Baron Fine Art"s stand is an oil painting of "Green Winged Teal' by Sir Peter Scott (1909-1989), the well-known artist and naturalist who founded The Wildlife Trust at Slimbridge in 1946 (£9,500). Books Illustrated sell art of the imagination, one of which is the original signed watercolour, c1908, "They Join with the Nymphs in a Graceful Dance" by Edmund Dulac (1882-1953) from Shakespeare"s "The Tempest", priced at £55,000.

S&S Timms of Bedfordshire are bringing a rare pair of Gillows similar furniture, one of which is, in fact, a washstand and the other a dressing table, £16,500 for the pair. Another important piece of furniture is a pollard oak and ebony Davenport, made c1835 by London cabinet-makers S & H Jewell, who were based in Holborn. This is priced at £8,950 from Freshfords Fine Antiques from Bath. Cont"d…

Bringing a little romance to the fair, Shapiro & Co has a Victorian 18ct gold snake necklace with emeralds and garnets, c1870, £2,750. The serpent is holding a heart, the symbol of love. Other glamorous jewellery, including designs by Van Cleef & Arpels and Cartier, can be found on Plaza"s and T Robert"s stands.

Organiser, Ingrid Nilson of The Antiques Dealers Fair Limited said, "We are looking forward to returning for another Luxury Antiques Weekend in the Cotswolds at the Tortworth Court Four Pillars Hotel. With its arboretum comprising 300 rare and protected trees, leisure and spa facilities, it provides the perfect opportunity for people wishing to have a luxury weekend break in a Grade II listed Victorian mansion, with the bonus of a quality antiques and fine art fair. Locals making a short trip to visit the fair can book a table at one of the two restaurants, or enjoy the light refreshments on offer. We are also very pleased to welcome back Help for Heroes as the fair"s charity, a very worthy cause."
---
Explore Gloucestershire
7 January 2011



For further information.



OTHER NEWS
• Cheese Rolling Committee takes residents concerns on board
• Winner of 2010 Explore Gloucestershire Photography Competition
• Westlife announce Westonbirt Concert date
• Sudeley Castle opens its doors on the family history for new season
• Spitfires return to the air Tattoo - 40 years on
• Cold weather failed to stop rare geese laying on time at WWWT Slimbridge
• 20% off tickets to the Moscow State Circus in Cheltenham
• Bryan Ferry announces Westonbirt concert date
• Titus arrives at Prinknash Bird & Deer Park
• Restaurant Review: The Parrot Bar & Grill in Cheltenham review
• Reds top Air Tattoo Aerobatics team list at Fairford 2011
• SPECIAL OFFER for businesses! Going for Gold - Save £100
• Jazz Festival Line-up revealed
• Double the Fun for Gloucestershire Treasure Hunters
• New Out of the Hat exhibition calls for public input
• Last chance for RIAT Air Tattoo earlybird tickets
• Hallmark Hotel Gloucester's transformation continues
• Texas announce Westonbirt concert date
• Hollywood A-lister Stephanie Beacham to star as Maria Callas at Everyman Theatre
• Love is in the Air at Gloucester Docks
• Amazing wildlife photographs on display at Nature in Art
• The best kept secret in the Cotswolds this Spring at Westonbirt
• The BIG animal count at Cotswold Wildlife Park
• The Gruffalo's Child - extra performance due to popular demand
• Fabulous offers at The Brewery in Cheltenham
• Explore Gloucestershire iPhone APP - over 1000 downloads!
• Coming Soon to Gloucester Folk Museum
• Elkie Brooks concert at Everyman Theatre rescheduled
• Something very fishy going on in Cheltenham!
• Gloucester Folk Museum Presents BBC High Street History Interactive Event
• The Second Tortworth Court Antiques and Fine Art Fair
• Pam Ayres lends support to Everyman Restoration Project
• NEW OFFER: Get in shape for 2011 with a FREE pass to Barcelo!
• NEW Cheltenham Festival! A Cheltenham Comedy Festival planned for November