The BIG animal count at Cotswold Wildlife Park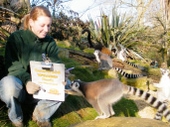 Counting all creatures, great and small at Cotswold Wildlife Park.
It's one of the biggest tasks in the Park's calendar. Every year, the keepers embark on the mammoth assignment of counting every single creature for the annual animal count. This is no mean feat, considering Cotswold Wildlife Park is currently home to over 1259 animals from over 269 species including 339 invertebrates, fish and reptiles.
Once counted, everything is logged on the Park's computer record system called ARKS (Animal Record-Keeping System). It contains every aspect of any creature's history, including illness and vaccination records and how often, with who and when it has mated.
Some are considerably easier to count than others! The slow-moving Sloths and Giant Tortoise are a breeze when compared to the Giant African Landsnail youngsters, of which there are several hundred (and counting!) The Tropical House (home to Rodrigues Fruit Bats, Sloths, birds and amphibians) is equally a challenge for keepers. The vast leaves from tropical plants make an ideal camouflage for its many inhabitants.
Park Curator, Jamie Craig, says: "We like to keep our animals in natural environments, but these often make good hiding places. The birds in particular can catch us out. Our Hammerkops build large, elaborate nests in their enclosure. A few years ago, we discovered one we didn't know we had... and they are fairly big birds! "

Additional information:
2010 was a very important year for Cotswold Wildlife Park as Oxfordshire's first ever Giraffes arrived.
It became the first zoological collection in the UK to successfully breed African Open Billed Storks! Also, for the first time in ten years, the beautiful Blue Winged Kookaburras successfully bred.
Cotswold Wildlife Park became the only other collection in Europe to keep Lace Monitor Lizards. They are the largest lizard in Australia!

Cotswold Wildlife Park opens its doors at 10am every day except Christmas Day, with last admission at 3.30pm during winter and 4.30pm in the summer months.
---
Explore Gloucestershire
26 January 2011

For further information.



OTHER NEWS
• Cheese Rolling Committee takes residents concerns on board
• Winner of 2010 Explore Gloucestershire Photography Competition
• Westlife announce Westonbirt Concert date
• Sudeley Castle opens its doors on the family history for new season
• Spitfires return to the air Tattoo - 40 years on
• Cold weather failed to stop rare geese laying on time at WWWT Slimbridge
• 20% off tickets to the Moscow State Circus in Cheltenham
• Bryan Ferry announces Westonbirt concert date
• Titus arrives at Prinknash Bird & Deer Park
• Restaurant Review: The Parrot Bar & Grill in Cheltenham review
• Reds top Air Tattoo Aerobatics team list at Fairford 2011
• SPECIAL OFFER for businesses! Going for Gold - Save £100
• Jazz Festival Line-up revealed
• Double the Fun for Gloucestershire Treasure Hunters
• New Out of the Hat exhibition calls for public input
• Last chance for RIAT Air Tattoo earlybird tickets
• Hallmark Hotel Gloucester's transformation continues
• Texas announce Westonbirt concert date
• Hollywood A-lister Stephanie Beacham to star as Maria Callas at Everyman Theatre
• Love is in the Air at Gloucester Docks
• Amazing wildlife photographs on display at Nature in Art
• The best kept secret in the Cotswolds this Spring at Westonbirt
• The BIG animal count at Cotswold Wildlife Park
• The Gruffalo's Child - extra performance due to popular demand
• Fabulous offers at The Brewery in Cheltenham
• Explore Gloucestershire iPhone APP - over 1000 downloads!
• Coming Soon to Gloucester Folk Museum
• Elkie Brooks concert at Everyman Theatre rescheduled
• Something very fishy going on in Cheltenham!
• Gloucester Folk Museum Presents BBC High Street History Interactive Event
• The Second Tortworth Court Antiques and Fine Art Fair
• Pam Ayres lends support to Everyman Restoration Project
• NEW OFFER: Get in shape for 2011 with a FREE pass to Barcelo!
• NEW Cheltenham Festival! A Cheltenham Comedy Festival planned for November