Amazing wildlife photographs on display at Nature in Art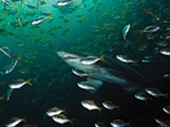 Fresh from its launch at the Natural History Museum!
Animal activities, creative portraits, skilful hunters and vistas from the furthest corners of our planet will be captured in this photographic exhibition of the world's most striking natural moments. The show features more than 100 winning and commended images from the prestigious Wildlife Photographer of the Year Competition, encompassing its 18 varied categories.

The competition (organised by the Natural History Museum and BBC Wildlife Magazine) is the largest and most prestigious event of its kind in the world and is now in its 46th year.

The exhibition showcases the very best photographic images of nature to a worldwide audience, displaying the splendour, drama and variety of life on Earth and inspiring people to care for its future. Each picture is captioned to reveal how and why it was taken. For many photographers, highlighting the richness and dynamic essence of wildlife is just as important as capturing a special moment with perfect composition and timing. The show also aims to show the artistry involved in wildlife photography and encourage a new generation of photographers to produce visionary and evocative interpretations of nature.
The much coveted title of Wildlife Photographer of the Year was awarded to Hungarian photographer Bence Máté from Pusztaszer for his image A marvel of ants, a simple shot that captures the complexity of the behaviour of leaf-cutter ants in the Costa Rican rainforest.
Bence's winning photograph is taken from a portfolio which won the competition's Erik Hosking Award. This award is given to the portfolio of six images that represent the best work of young, talented photographers between the ages of 18 and 26 and has not been awarded since 2007, when Bence last won it. Speaking about Bence's impressive portfolio, Chair of the judging panel, Mark Carwardine said, 'These six strong images show a range of subjects and styles. The photographer is clearly a master of his craft with an artist's eye.'
British teenager Fergus Gill took the young Wildlife Photographer of the Year title for the second year in a row. His image of a fieldfare, The frozen moment, was judged to be the most memorable of all the pictures by photographers aged 17 or under.
Speaking about Fergus' winning image, Mark Carwardine says, 'The hovering fieldfare is posed as an artist might paint it, the delicate yellow of the frozen berries echoing its breast feathers. A winning gem of a picture.'
Selected from tens of thousands of entries from across the globe, the images were judged to be the best of all those entered in the 2010 competition by a judging panel that included some of the world's most respected nature photographers and wildlife experts.
Event: The Wildlife Photographer Of The Year Exhibition
Date: Throughout February 2011
Time: Tuesday - Sunday 10am - 5pm
Tickets: Adults £5.25, Concessions (over 60 and under 16) £4.75, under 8's free, family (2 +2) £15.00
Where: Nature in Art, Wallsworth Hall, Nr Twigworth, Gloucester, GL2 9PA
Photograph Credit: © Thomas P Peschak, Title: Giant beachcomber
---
Explore Gloucestershire
31 January 2011

For further information.



OTHER NEWS
• Cheese Rolling Committee takes residents concerns on board
• Winner of 2010 Explore Gloucestershire Photography Competition
• Westlife announce Westonbirt Concert date
• Sudeley Castle opens its doors on the family history for new season
• Spitfires return to the air Tattoo - 40 years on
• Cold weather failed to stop rare geese laying on time at WWWT Slimbridge
• 20% off tickets to the Moscow State Circus in Cheltenham
• Bryan Ferry announces Westonbirt concert date
• Titus arrives at Prinknash Bird & Deer Park
• Restaurant Review: The Parrot Bar & Grill in Cheltenham review
• Reds top Air Tattoo Aerobatics team list at Fairford 2011
• SPECIAL OFFER for businesses! Going for Gold - Save £100
• Jazz Festival Line-up revealed
• Double the Fun for Gloucestershire Treasure Hunters
• New Out of the Hat exhibition calls for public input
• Last chance for RIAT Air Tattoo earlybird tickets
• Hallmark Hotel Gloucester's transformation continues
• Texas announce Westonbirt concert date
• Hollywood A-lister Stephanie Beacham to star as Maria Callas at Everyman Theatre
• Love is in the Air at Gloucester Docks
• Amazing wildlife photographs on display at Nature in Art
• The best kept secret in the Cotswolds this Spring at Westonbirt
• The BIG animal count at Cotswold Wildlife Park
• The Gruffalo's Child - extra performance due to popular demand
• Fabulous offers at The Brewery in Cheltenham
• Explore Gloucestershire iPhone APP - over 1000 downloads!
• Coming Soon to Gloucester Folk Museum
• Elkie Brooks concert at Everyman Theatre rescheduled
• Something very fishy going on in Cheltenham!
• Gloucester Folk Museum Presents BBC High Street History Interactive Event
• The Second Tortworth Court Antiques and Fine Art Fair
• Pam Ayres lends support to Everyman Restoration Project
• NEW OFFER: Get in shape for 2011 with a FREE pass to Barcelo!
• NEW Cheltenham Festival! A Cheltenham Comedy Festival planned for November