20% off tickets to the Moscow State Circus in Cheltenham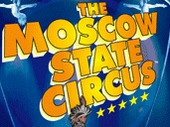 Explore Gloucestershire and the Moscow State Circus have teamed up to give all Explore Gloucestershire visitors a whopping 20% off tickets.
To take advantage of this discounted promotion call the Moscow Stae Circus - Cheltenham Earlybird Ticket Hotline on 0742 333 5364 before the 20 March 2011.
The new Moscow State Circus show takes us on an incredible journey in the company of, without a doubt the greatest circus performers on earth. A Mammoth cast of Russia's greatest and most talented circus artistes, many of which have never performed in Britain, transform the most famous circus in the world, combining contemporary & classical circus in way never before witnessed.
Don't miss out on this opportunity of going to see the Moscow State Circus in Cheltenham as they won't be back for a while.
Event: The Moscow State Circus at Cheltenham Racecourse
Date: Wednesday 30 March - Sunday 3 April 2010
Time: Wed 7.30pm, Thur & Frid 5pm & 8pm, Sat 3pm & 8pm, Sun 2pm & 5pm
Tickets: Adult: Restricted View £10 • Side Circle £15 • Grandstand £20 • Deluxe Grandstand £25 • Ringside £28. Under 16s, Over 60s, Students & Jobseekers: Restricted View £7 • Side Circle £10 • Grandstand £15 • Deluxe Grandstand £18 • Ringside £20
Where: Cheltenham Racecourse, South Car Park, Cheltenham. GL50 4SH
---
Explore Gloucestershire
1 March 2011

For further information.



OTHER NEWS
• Cheese Rolling Committee takes residents concerns on board
• Winner of 2010 Explore Gloucestershire Photography Competition
• Westlife announce Westonbirt Concert date
• Sudeley Castle opens its doors on the family history for new season
• Spitfires return to the air Tattoo - 40 years on
• Cold weather failed to stop rare geese laying on time at WWWT Slimbridge
• 20% off tickets to the Moscow State Circus in Cheltenham
• Bryan Ferry announces Westonbirt concert date
• Titus arrives at Prinknash Bird & Deer Park
• Restaurant Review: The Parrot Bar & Grill in Cheltenham review
• Reds top Air Tattoo Aerobatics team list at Fairford 2011
• SPECIAL OFFER for businesses! Going for Gold - Save £100
• Jazz Festival Line-up revealed
• Double the Fun for Gloucestershire Treasure Hunters
• New Out of the Hat exhibition calls for public input
• Last chance for RIAT Air Tattoo earlybird tickets
• Hallmark Hotel Gloucester's transformation continues
• Texas announce Westonbirt concert date
• Hollywood A-lister Stephanie Beacham to star as Maria Callas at Everyman Theatre
• Love is in the Air at Gloucester Docks
• Amazing wildlife photographs on display at Nature in Art
• The best kept secret in the Cotswolds this Spring at Westonbirt
• The BIG animal count at Cotswold Wildlife Park
• The Gruffalo's Child - extra performance due to popular demand
• Fabulous offers at The Brewery in Cheltenham
• Explore Gloucestershire iPhone APP - over 1000 downloads!
• Coming Soon to Gloucester Folk Museum
• Elkie Brooks concert at Everyman Theatre rescheduled
• Something very fishy going on in Cheltenham!
• Gloucester Folk Museum Presents BBC High Street History Interactive Event
• The Second Tortworth Court Antiques and Fine Art Fair
• Pam Ayres lends support to Everyman Restoration Project
• NEW OFFER: Get in shape for 2011 with a FREE pass to Barcelo!
• NEW Cheltenham Festival! A Cheltenham Comedy Festival planned for November