Spitfires return to the air Tattoo - 40 years on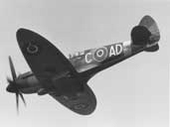 Two historic Spitfires that appeared at the first Royal International Air Tattoo in 1971 will be joining celebrations marking the airshow's 40th anniversary at RAF Fairford in Gloucestershire this summer.

Spitfire Mk9 (MH434), which is currently owned by The Old Flying Machine Company, flew into North Weald airfield on May 31, 1971 for the first Air Tattoo. It was joined by a Spitfire PRXIX (PM631) from the Battle of Britain Memorial Flight.

In total, 94 aircraft attended the first airshow, including aeroplanes from France, Denmark, Norway and Austria. RAF aircraft included a Nimrod, four F-4 Phantoms, a Britannia and a Wessex helicopter.

Spitfire Mk9 (MH434) was flown to North Weald by former Red Arrows leader and legendary aerobatics display pilot Ray Hanna.

Air Tattoo Chief Executive and a founder member of the airshow said: "I can still recall the cold sweat I felt when Ray made his first approach on arrival at North Weald. He was so low the tips of his propeller seemed to be touching the ground. These days, airfield regulations insist we hire in lawnmowers when we need the grass cut! However, Ray did go on to perform fantastically in MH434 and he helped cement the Air Tattoo's reputation for staging spectacular aerial displays."

MH434, which has starred in films including A Bridge Too Far, Battle of Britain and Operation Crossbow, was built in 1943 and saw action over France and Belgium during World War Two. Its combat record of seven and a half kills includes shooting down a Focke-Wulf FW-190 during a mission to escort USAAF B-17 bombers in 1943 and claiming a half-share in the downing of a Messerschmitt Bf-109G in northern France in the same year.

PM631 currently flies with the Battle of Britain Memorial Flight (BBMF) and is its longest-serving aircraft having displayed for 54 years. Built in November 1945 and delivered to the RAF in 1946, the high-altitude, photo reconnaissance aircraft came into service too late to perform operational roles in World War Two.

After being modified for meteorological work, she was leased to Short Bros and was flown by civilian pilots with the Temperature and Humidity Monitoring Flight based at Hooton Park and Woodvale until joining the BBMF in 1957.

In addition to celebrating its 40th anniversary, this summer's Air Tattoo, on July 16-17, will host a gathering of specially-decorated 'Tiger' aircraft from the NATO Tiger Association. 'Tiger' aircraft come from NATO squadrons that have a Tiger or Big Cat in their emblem and their association marks its 50th anniversary in 2011. The 'operational' spotlight STAR 11 will focus on aircraft and equipment involved in the roles of Strike and Reconnaissance.

Advance tickets, priced from £39, are available by visiting www.airtattoo.com or calling 0800 107 1940. All tickets must be purchased in advance. All accompanied under-16s go free.
---
Explore Gloucestershire
7 March 2011

For further information.



OTHER NEWS
• Cheese Rolling Committee takes residents concerns on board
• Winner of 2010 Explore Gloucestershire Photography Competition
• Westlife announce Westonbirt Concert date
• Sudeley Castle opens its doors on the family history for new season
• Spitfires return to the air Tattoo - 40 years on
• Cold weather failed to stop rare geese laying on time at WWWT Slimbridge
• 20% off tickets to the Moscow State Circus in Cheltenham
• Bryan Ferry announces Westonbirt concert date
• Titus arrives at Prinknash Bird & Deer Park
• Restaurant Review: The Parrot Bar & Grill in Cheltenham review
• Reds top Air Tattoo Aerobatics team list at Fairford 2011
• SPECIAL OFFER for businesses! Going for Gold - Save £100
• Jazz Festival Line-up revealed
• Double the Fun for Gloucestershire Treasure Hunters
• New Out of the Hat exhibition calls for public input
• Last chance for RIAT Air Tattoo earlybird tickets
• Hallmark Hotel Gloucester's transformation continues
• Texas announce Westonbirt concert date
• Hollywood A-lister Stephanie Beacham to star as Maria Callas at Everyman Theatre
• Love is in the Air at Gloucester Docks
• Amazing wildlife photographs on display at Nature in Art
• The best kept secret in the Cotswolds this Spring at Westonbirt
• The BIG animal count at Cotswold Wildlife Park
• The Gruffalo's Child - extra performance due to popular demand
• Fabulous offers at The Brewery in Cheltenham
• Explore Gloucestershire iPhone APP - over 1000 downloads!
• Coming Soon to Gloucester Folk Museum
• Elkie Brooks concert at Everyman Theatre rescheduled
• Something very fishy going on in Cheltenham!
• Gloucester Folk Museum Presents BBC High Street History Interactive Event
• The Second Tortworth Court Antiques and Fine Art Fair
• Pam Ayres lends support to Everyman Restoration Project
• NEW OFFER: Get in shape for 2011 with a FREE pass to Barcelo!
• NEW Cheltenham Festival! A Cheltenham Comedy Festival planned for November