Cheese Rolling Committee takes residents concerns on board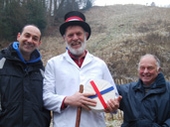 The Cheese Rolling Committee (CHCRC) has confirmed updated plans for the new-look Coopers Hill Cheese Rolling Festival – which will exclude overnight camping and live bands.

Plans to revive the event as a professionally organised, ticketed, two day festival, to save it from extinction, were met with concern by some local residents. But, following public consultation in January the committee has reviewed its campaign.

Revised plans will see overnight camping and live bands removed from the line-up and the event held over just two single days, Saturday 11 June and Sunday 12.

The family orientated event will reintroduce the 'wake' series of rustic games and competitions, like shin kicking, tug of war, wrestling for a belt, gurning, dancing for ribbons, ducking for oranges, bobbing for penny loaves, climbing the maypole and coconut shies.

The committee has also pledged their commitment to ongoing consultation with local residents, which will include full briefings of any submitted license applications and a post-event debriefing and review.

Richard Jefferies, Press Officer, Cheese Rolling Committee said: "We have listened to the local community, taken on board their concerns and made adjustments to the planned event at every avenue possible.

"It has not been feasible to adhere to every objection. After consultation with the statutory authorities it has been decided that by having a licensed bar, we are able to control the amount of alcohol coming on site.
"With a bar facility in place we will be able to restrict the public bringing their own alcohol to the event ensuring a safer environment, with bag searches as enforcement. There will be no alcohol sold outside the closed event perimeter and all alcohol sales will be closely supervised by a personal license holder."
Ticket-prices are due to be announced soon and the bid to draw in sponsors to cover the cost of necessary health and safety measures continues.

Richard adds: "We would like to assure people that the committee are all local people themselves and are just passionate about keeping the age-old tradition alive. This includes changing the date back to the Whitsun weekend which was traditional before the change to the modern Spring Bank Holiday.
"We have spent much time considering ways in which we make revenue to put the necessary safety measures in place in order for the event to take place. The reality is if we do not raise enough funds through ticket revenue and sponsorship the event will just not happen."

The cheese rolling, previously held on Spring Bank Holiday Monday, was the victim of its own popularity in 2009 when 15,000 spectators turned up to a venue equipped to hold only 5,000, resulting in the cancellation of the 2010 event due to fears over traffic congestion and crowd safety.

For more information on cheese rolling visit the cheese rolling website holding page at www.cheeserollingfestival.co.uk Tickets go on sale via the internet in March – details to be released in due course.
---
Explore Gloucestershire
10 March 2011


For further information.



OTHER NEWS
• Cheese Rolling Committee takes residents concerns on board
• Winner of 2010 Explore Gloucestershire Photography Competition
• Westlife announce Westonbirt Concert date
• Sudeley Castle opens its doors on the family history for new season
• Spitfires return to the air Tattoo - 40 years on
• Cold weather failed to stop rare geese laying on time at WWWT Slimbridge
• 20% off tickets to the Moscow State Circus in Cheltenham
• Bryan Ferry announces Westonbirt concert date
• Titus arrives at Prinknash Bird & Deer Park
• Restaurant Review: The Parrot Bar & Grill in Cheltenham review
• Reds top Air Tattoo Aerobatics team list at Fairford 2011
• SPECIAL OFFER for businesses! Going for Gold - Save £100
• Jazz Festival Line-up revealed
• Double the Fun for Gloucestershire Treasure Hunters
• New Out of the Hat exhibition calls for public input
• Last chance for RIAT Air Tattoo earlybird tickets
• Hallmark Hotel Gloucester's transformation continues
• Texas announce Westonbirt concert date
• Hollywood A-lister Stephanie Beacham to star as Maria Callas at Everyman Theatre
• Love is in the Air at Gloucester Docks
• Amazing wildlife photographs on display at Nature in Art
• The best kept secret in the Cotswolds this Spring at Westonbirt
• The BIG animal count at Cotswold Wildlife Park
• The Gruffalo's Child - extra performance due to popular demand
• Fabulous offers at The Brewery in Cheltenham
• Explore Gloucestershire iPhone APP - over 1000 downloads!
• Coming Soon to Gloucester Folk Museum
• Elkie Brooks concert at Everyman Theatre rescheduled
• Something very fishy going on in Cheltenham!
• Gloucester Folk Museum Presents BBC High Street History Interactive Event
• The Second Tortworth Court Antiques and Fine Art Fair
• Pam Ayres lends support to Everyman Restoration Project
• NEW OFFER: Get in shape for 2011 with a FREE pass to Barcelo!
• NEW Cheltenham Festival! A Cheltenham Comedy Festival planned for November